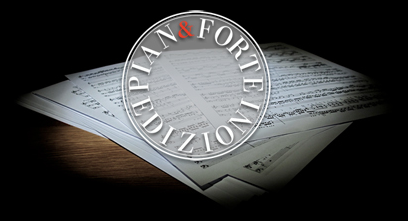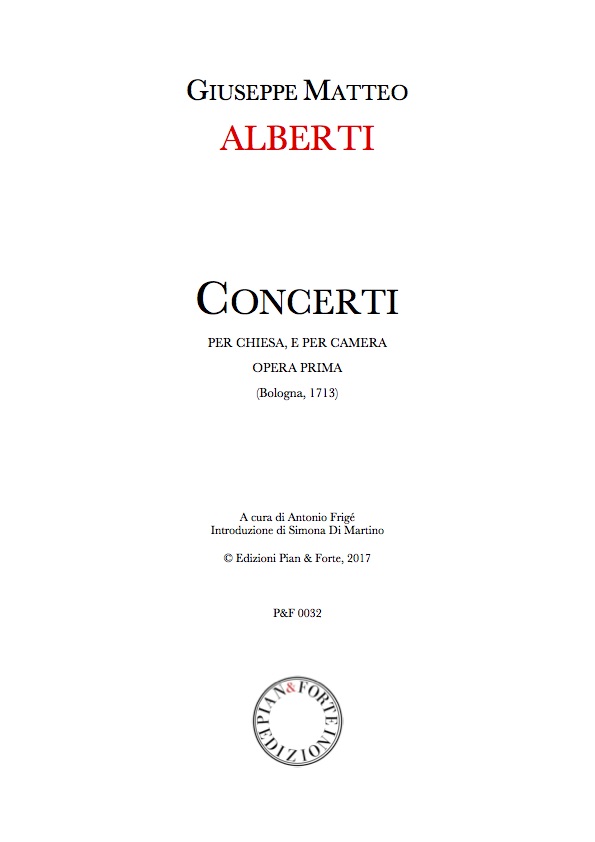 Concerti per chiesa e per camera - Opera prima
(Instrumental music)
Sächsische Landesbibliothek - Staats - und Universitätsbibliothek Dresden
Trascrizione a cura di Antonio Frigé
Introduzione di Simona Di Martino

116 pag.

ISBN: 978-88-98342-28-0

Giuseppe Matteo Alberti was one of the last representatives of the famous Bologna school, which rose around the St. Petronio cathedral, where Alberti had been employed as a violinist since 1709. He had studied violin with Carlo Manzolini and counterpoint with Pietro Maria Minelli and Floriano Arresti. He was the concertmaster for the count Orazio Leonardo Bargellini, who would have been the dedicatee of Alberti's most famous work, the "Concerti per chiesa e per camera op. 1". Furthermore, he was member in the Accademia filarmonica for more than forty years and was elected principe (i.e. "president") of it several times.
In 1718, together with Giuseppe Maria Buini, he worked as a theatre impresario. Later he became music director in San Giovanni in Monte (from 1726) and in San Domenico (from 1734). In 1751, a few days before Alberti's death, the scholar Ubaldo Zanetti mentioned him in his "Diario" as a "second violin player and important music composer".
Although Alberti spent his whole life, it seems, in the Emilia area of the north of Italy, his music had a huge success abroad, in particular in England where, together with Albinoni, Vivaldi and Tessarini, he was one of the composers whose works were more frequently performed in the first half of the seventeenth century, as reported by Charles Burney.
This is widely proven by the many reprints of his collections, published by Walsh (London) and Roger-Le Cène (Amsterdam). Hutchins, in his detailed history of the baroque concerto1, has mentioned Alberti as a representative of San Petronio school possibly just for the record and not because he considered him a noteworthy composer. Notwithstanding, he gives very positive comments about his trumpet concertos, that maybe were written when he was very young.
Files:

Partitura

15.00€

Parti

20.00€

score + parts

35.00€
Copyright Edizioni Pian & Forte 2017 - AssociazioneProMusica - P.iva 09754000967 - Tutti i diritti sono riservati -
Cookie Policy
-
Privacy Policy