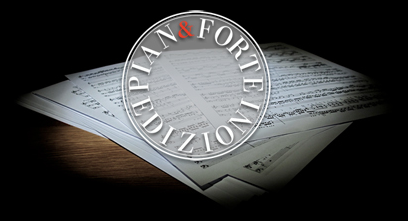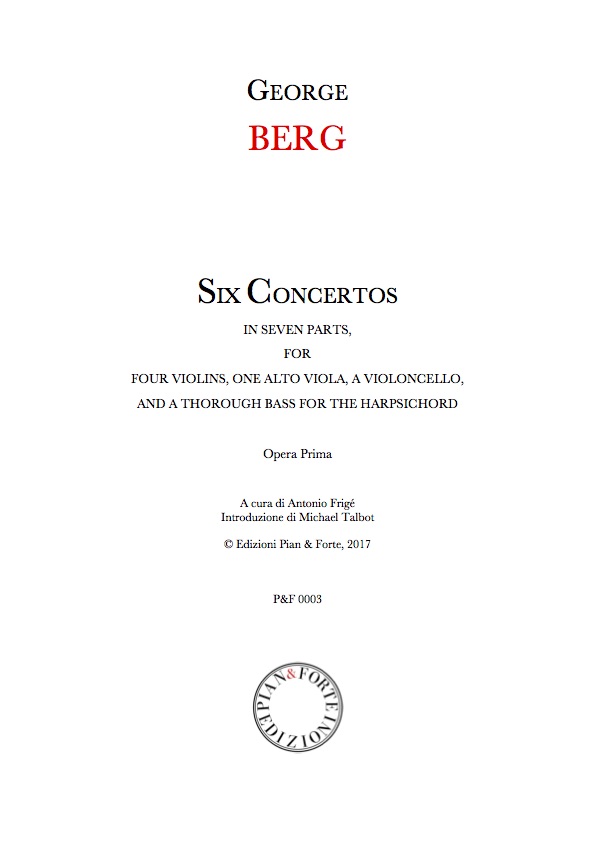 Six Concertos in seven parts, Opera I
(Instrumental music)
University of Michigan
Trascrizione a cura di Antonio Frigé
Introduzione di Michael Talbot

155 pag.

ISBN 978-88-98342-02-0

Few people today have heard of George Berg. The great eighteenth-century historians of music, Sir John Hawkins and Charles Burney, simply ignore him and his works, and posterity has done virtually nothing to rescue him from obscurity. But he was a highly capable composer who produced music of distinction in both instrumental and vocal domains. It is to be hoped that this publication of his earliest datable works, the Six Concertos in Seven Parts, Op. 1 (London, 1755), will kindle an interest in him, as well as providing thoroughly accomplished and enjoyable music for performance and perhaps even recording.
George Berg was the last of several children born to Peter Berg, a London staymaker (a maker of the 'hard' – whalebone or metal – components of corsets) and his wife Elizabeth. Contrary to incorrect information that has travelled down to modern times, he was not German by birth, although his father, who was buried in the cemetery of the German Lutheran church at the Savoy, must have been a German speaker, and therefore quite possibly a first-generation immigrant. George was trained in music by Johann Christoph Pepusch and in 1760-62 travelled around Italy for 'further improvement in the science of music'. He was primarily a keyboard player (although he also played the violin), and from 1762 onwards he held the post of organist at the church of St Mary-at-Hill in Billingsgate. He was also active as a teacher of keyboard instruments. (From 1759 at the latest he became interested in chemistry and glassmaking, conducting many experiments in these areas, but these 'extra-curricular' activities need not detain us here.)...


Files:

Partitura

20.00€

Parti

25.00€

score + parts

45.00€
Copyright Edizioni Pian & Forte 2017 - AssociazioneProMusica - P.iva 09754000967 - Tutti i diritti sono riservati -
Cookie Policy
-
Privacy Policy