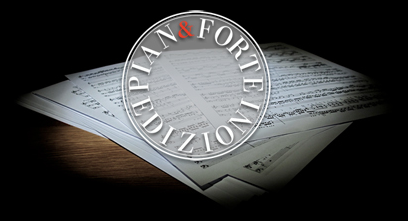 home
>
Instrumental music
> Concerto a cembalo obbligato con due violini, viola e violoncello (Agrell Johann Joachim)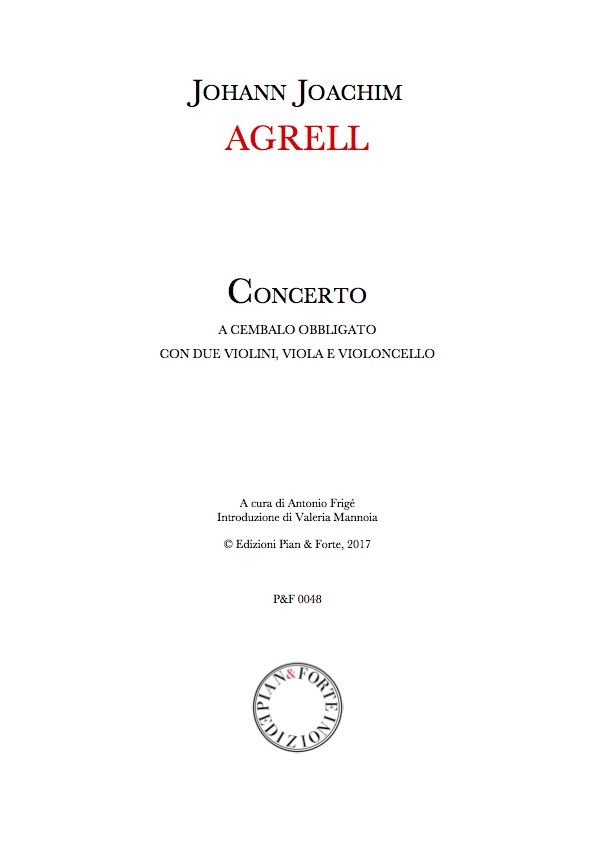 Concerto a cembalo obbligato con due violini, viola e violoncello
(Instrumental music)
Staatsbibliothek zu Berlin - Preußischer Kulturbesitz, Musikabteilung (D-B) Mus.ms. 350/2 (RISM ID no.: 452002009)
Trascrizione a cura di Antonio Frigé
Introduzione di Valeria Mannoia

35 pagine

ISBN: 978-88-98342-47-1

Johann Joachim Agrell, son of Lutheran pastor, Johan Jonas Agrell and Margaretha Landelius, was born February 1, 1701 in Löt, in the Swedish province of Östergötland. He finished his school education near Linköping and only in 1721 moved to Uppsala, where he began his university studies.
His biographical dates until 1746 are not very precise, but it is hypothesized that already in 1723 he abandoned university and transferred to Kassel. Here he worked as a musician in the court of duke Margravio Karl von Hessen- Kassel and in the private court of prince Maximilian von Hessen-Kassel. With the latter he had a long and deep friendship, testified by biographical references in the margin of one of the portraits of the composer in the dedication of the six symphonies to prince Maximilian, published between 1746 and 1747, where the prince is thanked for all the favours granted during the years in which Agrell was in his service.
The years of service spent for Maximilian were essential for his formation as a composer. The musical provisions available at court included many collections of German instrumental music (especially by Georg P. Teleman, Christoph Graupner, Johan A. Hasse, Johann D. Heinichen, Georg F. Händel) and Italian instrumental and operatic music. Of these Italian models, Agrell was definitely influenced by the music of Vivaldi, of which he transcribed several concertos for harpsichord. These models were transmitted also by decisive contact with Fortunato Chelleri in Kassel and with Christoph Graupner in Darmstadt. The biographies of Agrell report that during the years of service in Kassel, he made a long journey across Germany, France, England and Italy. This allowed him to come in direct contact with the styles and compositional techniques widespread in major European centres.
Files:

Partitura

6.00€

Parti

6.00€

score + parts

12.00€
Copyright Edizioni Pian & Forte 2017 - AssociazioneProMusica - P.iva 09754000967 - Tutti i diritti sono riservati -
Cookie Policy
-
Privacy Policy