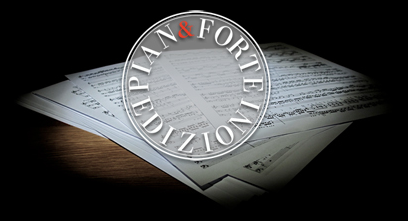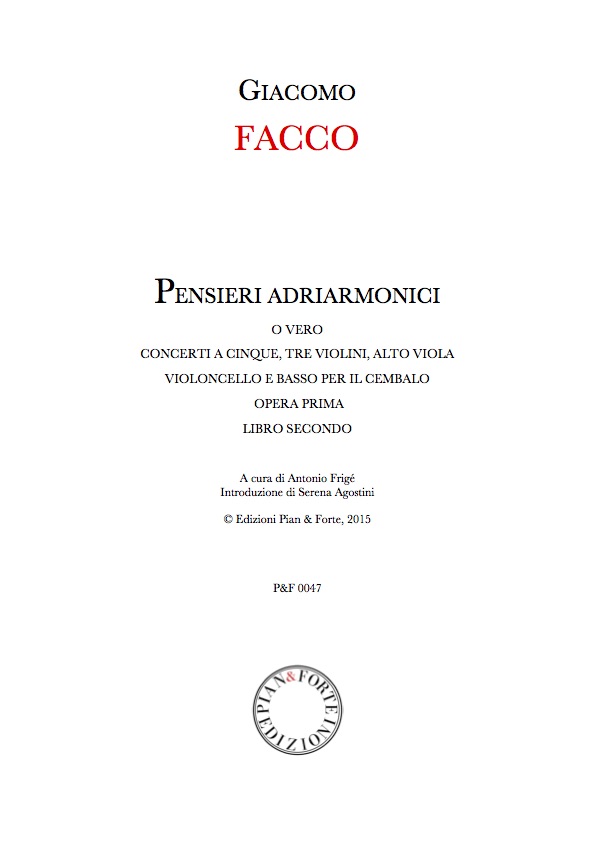 Pensieri adriarmonici - Opera prima, Libro II
(Instrumental music)
Musik-och teaterbiblioteket, Stockholm
Concerti a cinque, tre violini, alto viola, violoncello e basso per il cembalo (sic)

Trascrizione a cura di Antonio Frigé
Introduzione di Serena Agostini

227 pag.

ISBN 978-88-98342-46-4

Although his name had not reached us and the research of his works started in Mexico in the 60's with some texts received on a mission to Mexico City, Giacomo Facco was a very important musician in his lifetime: violinist, composer and maestro of music in the court of Spain. He was also the only composer mentioned by name in Fasto de Hymeneo (1752), which tells of the wedding ceremony in 1729 between the heirs of Spain and Portugal. To him were dedicated the opus five concertos by Albinoni and he was among the musicians who published for Roger & Le Cène of Amsterdam.
Probably to follow his patron, the Marquis Spinola, viceroy of the House of Balbales, Giacomo Facco moved from Venice, where he was born in 1676, to Naples and then to Sicily, following the travels of the Marquis.
The production of the composer was addressed in particular to vocal music. He worked for the theatres of Sicily, and later in Spain, composing dialogues and serenades including the Festejo para lo dia de la Reyna (1722), dedicated to Isabella Farnese.
We know little of his musical activity before 1700, but we have information of his first commissions for Balbales since 1705, and then from 1710 there are several reports of some operas, lost, that he composed during the first years of his service to the House.
Upon arrival of the Bourbons in Sicily, Facco followed Spinola to Spain where he continued to work as maestro to the Royal Chapel of Madrid and as maestro of music to the Prince of Asturias, and then to Don Carlo, the son of Philip V and Isabella Farnese.
From the 1740s his intense activity suffers a decline, finishing in complete inactivity.
Pensieri Adriarmonici
We read in the dedication of the first opus of Giacomo Facco,
"It was the custom of the Eastern peoples to consecrate to the rising sun, the first fruits, especially of the flowers. Contemplating in the meridian of unique virtues, the rays of the deserving Eroico di V. E., I dare to bestow the first travails of my pen. I do not despair that they are pleasing flowers, earning the acceptance of a light so perfect and benign."...


Files:

Partitura

22.00€

Parti

30.00€

score + parts

52.00€
Copyright Edizioni Pian & Forte 2017 - AssociazioneProMusica - P.iva 09754000967 - Tutti i diritti sono riservati -
Cookie Policy
-
Privacy Policy