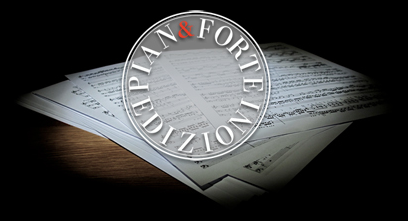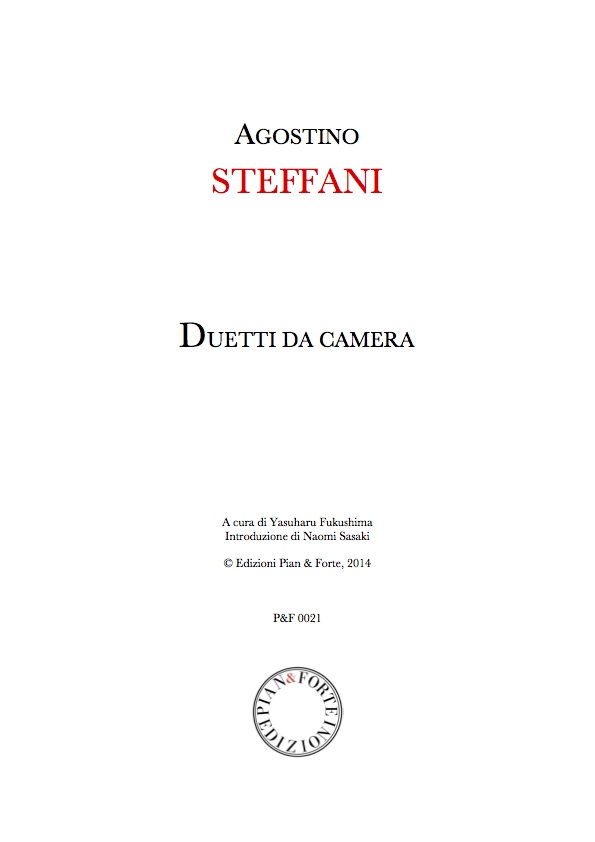 Duetti da camera
(Secular vocal music)
British Library - London
Trascrizione a cura di Yasuharu Fukushima
Introduzione di Naomi Sasaki

83 Pag.

ISBN 978-88-98342-20-4

Io mi parto (Soprano e Tenore)
Io mi rido (Soprano e Contralto)
Questo fior ch'involo al prato (Soprano e Tenore)
Oh, che voi direste bene (Soprano e Basso)
Turbini tempestosi (Soprano e Contralto)
Sia maledetto amor (Contralto e Baritono)
Siete il più bizzarro umore (Soprano e Basso)
No, no, no, non voglio se devo amare (Contralto e Tenore)

Agostino Steffani was borne in Castelfranco Veneto in 1654.
As a composer he was active mostly in Germany where, as priest, he also had a diplomatic career. He died in Frankfurt in 1728.
In his childhood he learnt music and performed as solo singer in churches as well in theatres. At the age of thirteen his talent impressed Ferdinando Maria, Duke and Elector of Bavaria who invited him at his Court in Munich and committed him to the care of the local chapel master, Johann Caspar Kerll.
After learning composition in Rome under the guide of Bernabei, Steffani became in 1681 Chamber Music Director in Munich, where his first four operas were performed.
After 1688 he was active as chapel master for 15 years at the Hannover Court where eight of his Operas were also performed.
Between 1703 and 1709 he took service with Palatinate's Elector in Duesseldorf. In this period, owing to the amount of his diplomatic engagements, a paramount decrease of his musical production occurred.
Highly renowned as an opera composer, he was entrusted with more and more relevant tasks as politician and church diplomatic: in 1709 he gained the title of Apostolic Vicar in Northern Germany...
Files:

partitura

13.00€
Copyright Edizioni Pian & Forte 2017 - AssociazioneProMusica - P.iva 09754000967 - Tutti i diritti sono riservati -
Cookie Policy
-
Privacy Policy