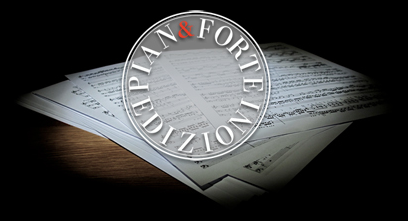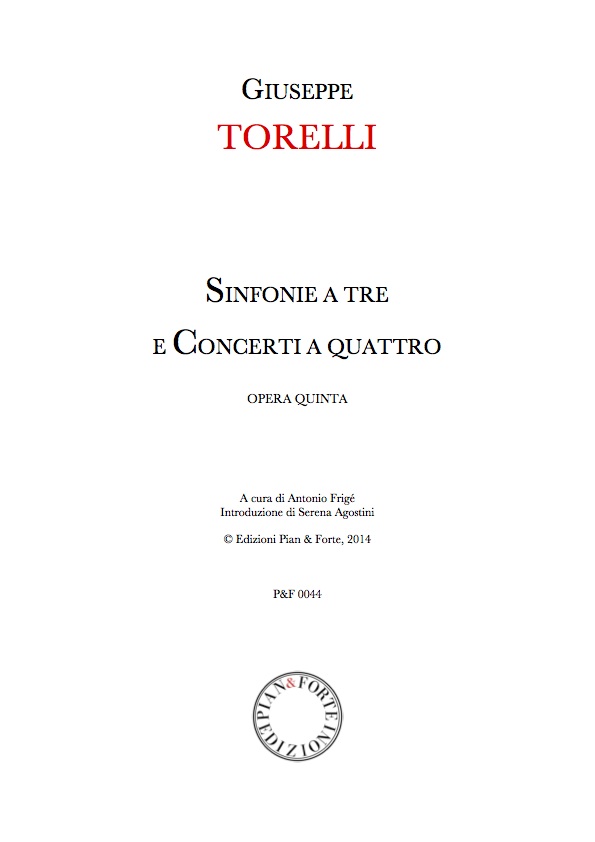 Sinfonie a tre e Concerti a quattro - Opera V
(Instrumental music)
Museo internazionale e bibilioteca della musica - Bologna
per due violini, viola, violoncello, organo e tiorba.

Trascrizione a cura di Antonio Frigé
Introduzione di Serena Agostini

138 pag

ISBN 978-88-98342-43-3

Giuseppe Torelli was born in Verona in 1658 and studied the violin until 1681. After a brief period of painting, he appears to have worked as a violinist in Verona until 1684, the lastest appointment being in the cathedral. In June 1684, he was admitted to the Accademia Filarmonica di Bologna, again as a violinist and was named by Padre Martini in the catalogue of the Aggregati dell'Accademia Filarmonica di Bologna as Giuseppe Torelli, Veronese Composer, Maestro of the Cappella of the Imola Duomo. Two years later he was admitted to the cappella of San Petronio, under the direction of Giovanni Paolo Colonna, where he worked for nine years until 1695. During this period in Bologna, the first five collections of instru- mental works were published, including the still unedited concertos, in an annual publication until 1695 for the celebration festivities of San Petronio. These also included the trumpet. After the death of Giovanno Paolo Colonna, the cappella was temporarily disbanded for economical reasons and Torelli left Italy and emigrated for the early months of 1696 to Bavaria and then to Austria. As the concertmaster of the Margrave of Bran- denburg in Germany, Torelli published his opus 6. From 1701, he returned to Italy and reassumed his posi- tion of violinist for temporary assignments at San Petronio. In this second Bolognese period, new unedited concertos for trumpet and compositions for oboe appeared.
Dated to 1692, Opus 5 is the last of the publications from the first Bolognese period of the composer and they have the title Sinfonie à tre e Concerti à quattro. They are dedicated to Giovanni Guglielmo of Palati- nato-Neuburg...
Files:

partitura

15.00€

parti

30.00€

score + parts

45.00€
Copyright Edizioni Pian & Forte 2017 - AssociazioneProMusica - P.iva 09754000967 - Tutti i diritti sono riservati -
Cookie Policy
-
Privacy Policy