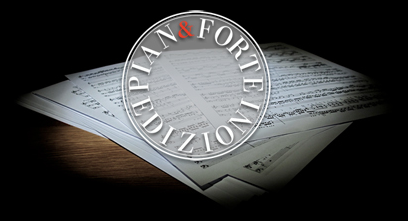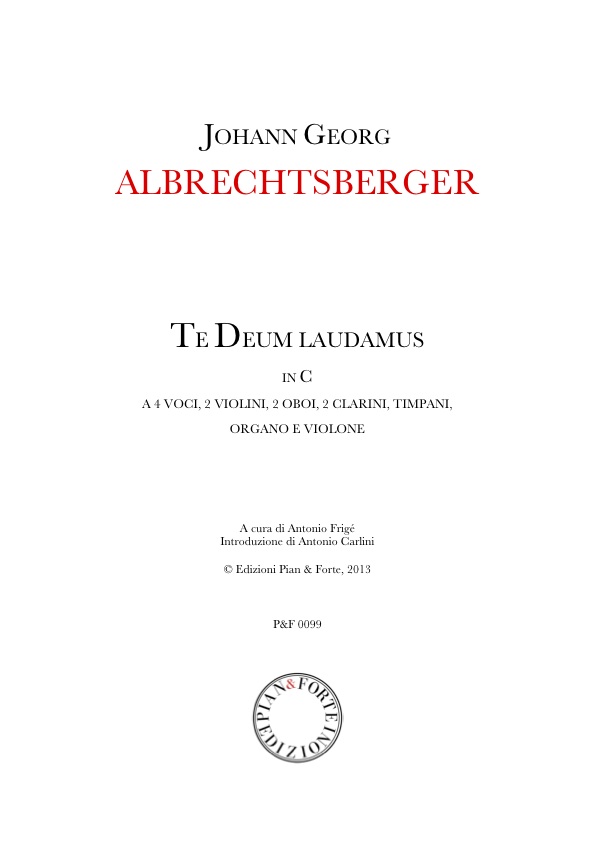 Te Deum laudamus
(Sacred vocal music)
Hungarian National Library, Budapest
in C, a 4 voci, 2 violini, 2 oboi, 2 clarini, timpani, organo e violone.

Trascrizione a cura di Antonio Frigé
Introduzione di Antonio Carlini

64 pag.

ISBN 978-88-98342-98-3

A friend of Mozart, highly appraised by Haydn and, even if for a short period, Beethoven's teacher, Johann Georg Albrechtsberger was an Austrian musician born in Klostenburg in 1735 and died in Wien in 1809. He belongs to that creative middle-European geography focused in the Empire's capital, to whom we owe the background of the otherwise unthinkable three "Classic" crowns.
Inevitably overshadowed by the emerging personalities of this triad, Albrechtsberger was the protagonist of an intense activity as a composer: his occupation as organist (Mozart, in a letter to Costanza from 1769, indicates his way of playing as a model of absolute reference) and as Kapellmeister, permanently from 1793 at Stephansdom in Wien, are reflected in a very substantial catalogue of works, mainly consisting of sacred music (over 300 numbers) nevertheless sided by over 500 instrumental pieces (piano sonatas, organ fugues and preludes, concerts, symphonies and quartets) and among them some peculiar concert pieces: a Trombone Concerto in B flat major (1769), two absolutely unusual Concerti for scacciapensieri e mandora (in F major and E major).
Of all this heritage, only a few dozen works were printed, and the most of the rest survive as manuscripts in the Library of the Gesellschaft der Musikfreunde in Wien.
Files:

partitura

10.00€

parti

20.00€

score + parts

30.00€
Copyright Edizioni Pian & Forte 2017 - AssociazioneProMusica - P.iva 09754000967 - Tutti i diritti sono riservati -
Cookie Policy
-
Privacy Policy