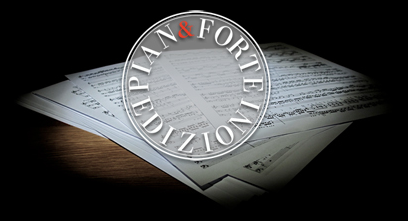 home
>
Secular vocal music
> Dodici Cantate per voce sola di Soprano [e Alto] con accompagnamento del basso numerato (Porpora Nicola)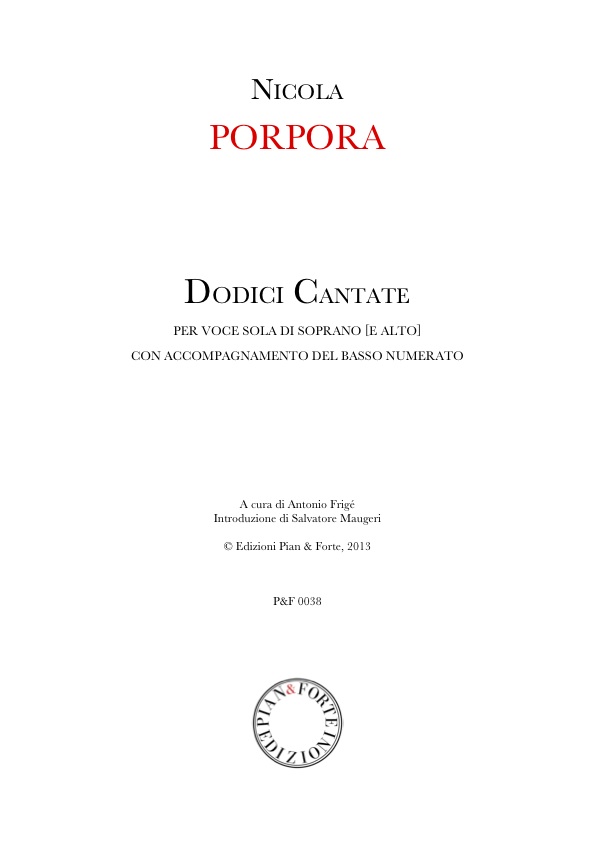 Dodici Cantate per voce sola di Soprano [e Alto] con accompagnamento del basso numerato
(Secular vocal music)
Biblioteca del Conservatorio di musica S. Pietro a Majella – Napoli
Trascrizione a cura di Antonio Frigé
Introduzione di Salvatore Maugeri

110 pag.

ISBN 978-88-98342-37-2

Cantata I D'amore il primo dardo (Soprano)
Cantata II Nel mio sonno almen talora (Soprano)
Cantata III Tirsi chiamare a nome (Soprano)
Cantata IV Queste che miri, oh Nice (Soprano)
Cantata V Scrivo in te l'amato nome (Soprano)
Cantata VI Già la notte s'avvicina (Soprano)
Cantata VII Veggo la selva, e il monte (Alto)
Cantata VIII Or che una nube ingrata (Alto)
Cantata IX Destatevi, oh pastori (Alto)
Cantata X Oh, se fusse il mio core (Alto)
Cantata XI Oh Dio! che non è vero (Alto)
Cantata XII Dal povero mio cor (Alto)

The "Dodici Cantate op. 1 per voce sola di soprano con accompagnamento del basso numerato composte dal Sig. Maestro Porpora" (as a matter of fact only the first six ones are for soprano the remaining ones for contralto) are the "Cantate da Camera" saved as manuscripts in the Library of the " Conservatorio di Musica S. Pietro a Majella" in Naples. They were published in London in 1735 and dedicated to "His Royal Highness Frederic, Prince of Wales and Elector of Hannover" at whose Court Nicolò Porpora was employed approximately during seven years. Frederik Ludwig von Hannover (1707 -1751) played a very important role in the cultural life of his age, being a patron of the Arts and a direct sustainer of the "Opera of the Nobility" were Porpora was active in competition with the Royal Theatre and his rival colleague Haendel.
After reaching London in 1729, the composer decided to print in England these beautiful Cantatas as Opus 1 (!), when he was already well on in years (he was born around 1686 and died in 1766): up to that date the work had been preserved as manuscript in Naples. Not only one of the most important Opera composers of his age, Porpora, whose refined skill in treating the voice was highly praised, was also a great singing-master: among the pupils to whom he imparted his lessons are three of the most famous singers in those times: Senesino, Farinelli and Porporino.
His ability in matching the Italian language with the music - he was Haydn's teacher too - was internationally recognized. His Cantatas have always been highly appreciated because of his mastery in the " recitativo ", his good taste and the exquisite vocal style in the Arias: they are considered perfect models of dramatic music...
Files:

partitura

12.00€
Copyright Edizioni Pian & Forte 2017 - AssociazioneProMusica - P.iva 09754000967 - Tutti i diritti sono riservati -
Cookie Policy
-
Privacy Policy