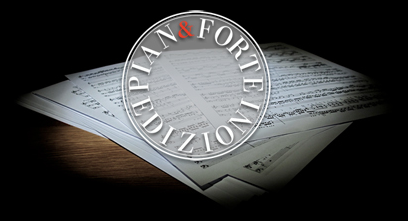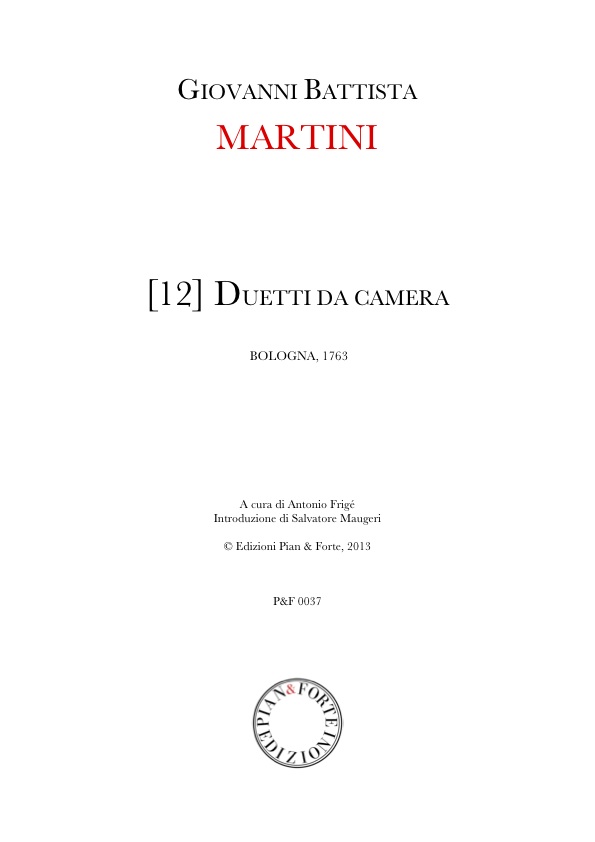 [12] Duetti da camera
(Secular vocal music)
Fondo musicale manoscritto della chiesa di S. Maria della Fava, Venezia
Trascrizione a cura di Antonio Frigé
Introduzione di Salvatore Maugeri

82 pag.

ISBN 978-88-98342-36-5

Duetto I O come spesso il mondo (Soprano e Alto)
Duetto II Che serena, che placida calma (2 Soprani)
Duetto III L'ape e la serpe (Soprano e Alto)
Duetto IV Quell'onda che rovina (Soprano e Alto)
Duetto V Dall'arte amica (Soprano e Alto)
Duetto VI Gonfio tu vedi il fiume (Soprano e Tenore)
Duetto VII Tutto cangia (Soprano e Basso)
Duetto VIII Io non pretendo, o stelle (2 Soprani)
Duetto IX Entra l'uomo allor che nasce (Soprano e Tenore)
Duetto X Ah ritorna età dell'oro (Soprano e Basso)
Duetto XI Quercia annosa su l'erte pendici (Tenore e Basso)
Duetto XII Basta così t'intendo (2 Soprani)

The majority of the works by Father Giovan Battista Martini remained in the state of autograph manuscripts, preserved in the newly named Museo Internazionale e Biblioteca della Musica (previously Civico Museo Bibliografico Musicale di Bologna). Later, some of these works were given to the press, including the twelve Duetti da camera for different voices, published in Bologna by Lelio Della Volpe in 1763, twenty years before the composer's death.
The source of this edition is the archived music manuscript of the church of S. Maria della Fava, in Venice.
According to the Biographical Dictionary of the Italians (Volume 32, 1986), Lelio Antonio Gaetano Della Volpe was a Bolognese printer and bookseller, mentioned as the author of some of the finest musical and literary editions in the eighteenth century.
The first edition of musical works dating back to 1734, with the publication of litanies and antiphons for four voices with violin, op. 1 by Giovan Battista Martini, is followed by a long series of editions of works by numerous Bolognese masters (with particular regard to Martini). The first editions were printed, while after 1744 they were engraved. The Sonate per l'organo e il cembalo (1747) and the Duetti da camera of Martini were therefore engraved. There was also the publication of treatises: a Dissertatio progressionis in musica and especially the Esemplare o sia Saggio fondamentale pratico di contrappunto fermo both by Martini, respectively in 1774 and 1775 (the second was among the main treatises of music published in Italy, in the Italian language of that time). The editor published between 1757 and 1781 the celebrated Storia della musica in three volumes, also by Martini.
After the death of Della Volpe in Bologna in 1749, the printer and bookshop passed to his son Petronius (died in 1794) who worked for years with his father so the situation remained stable. The reputation enjoyed by Della Volpe at home and abroad was now sanctioned by critics, the company used skilled workers and the industry of engraving far exceeded that of other printers, and not only locally. It is easy to deduce from the date, that the Duetti were published by Petronio (not by his father Lelio) and engraved on plates...

Files:

partitura

12.00€
Copyright Edizioni Pian & Forte 2017 - AssociazioneProMusica - P.iva 09754000967 - Tutti i diritti sono riservati -
Cookie Policy
-
Privacy Policy