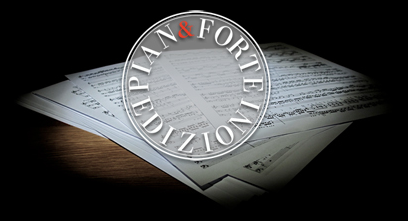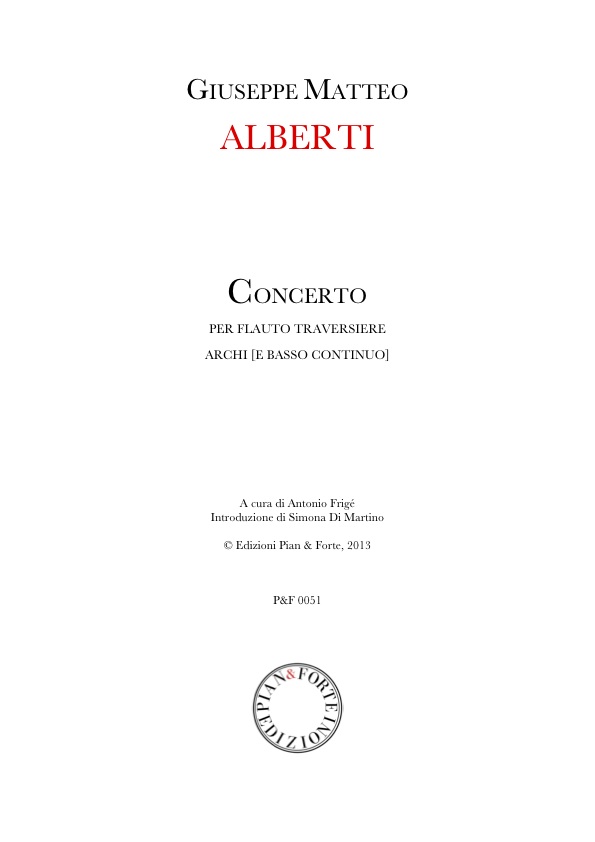 Concerto per flauto traversiere
(Instrumental music)
Badische Landesbibliothek Karlsruhe
Concerto per flauto traversiere, archi e basso continuo

Trascrizione a cura di Antonio Frigé
Introduzione di Simona Di Martino

21 pag.

ISBN: 978-88-98342-50-1

Giuseppe Matteo Alberti was one of the last representatives of the famous Bologna school, which rose around the St. Petronio cathedral, where Alberti had been employed as a violinist since 1709.
Although Alberti spent his whole life, it seems, in the Emilia area of the north of Italy, his music had a huge success abroad, in particular in England where, together with Albinoni, Vivaldi and Tessarini, he was one of the composers whose works were more frequently performed in the first half of the seventeenth century…

The concerto for transverse flute and string by Giuseppe Matteo Alberti, available until now only in the manuscript source (just parts, without a score), is preserved in the Badische Landesbibliothek in Karlsruhe. […]
The first movement, "Allegro", in F major, is in itself a small gem of formal and symphonic balance: built as a kind of rondò-like form, this movement owes its effectiveness to the perfect coherence between melody and orchestral complexity: a first theme, light and dancing, opens the Concerto, systematically framing the solo passages of the flute. The soloist presents some of the more suggestive musical ideas: graceful embellishments and dense phrasings, chromatical sinuosity and flickering diminutions.
The central movement, a d minor adagio, is as lyric as an opera aria could be. The flute sings a expressive and somewhat free melody while the orchestra, with a ligher sound for the absence of viola, plays over a ostinato rhythm: the result resembles the slow movements of Vivaldi concertos.

Files:

partitura

3.00€

parti

5.00€

score + parts

8.00€
Copyright Edizioni Pian & Forte 2017 - AssociazioneProMusica - P.iva 09754000967 - Tutti i diritti sono riservati -
Cookie Policy
-
Privacy Policy