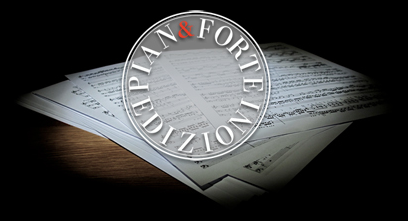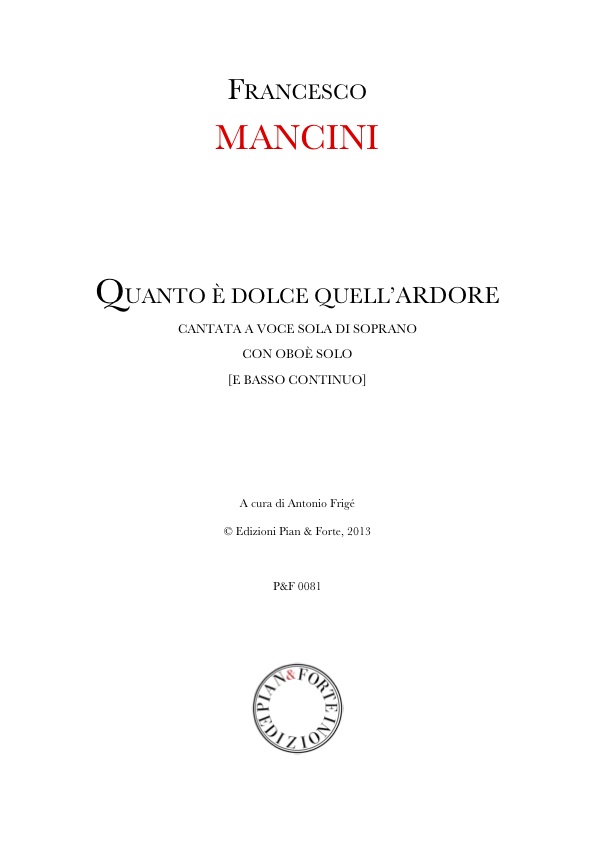 Quanto e' dolce quell'ardore
(Secular vocal music)
Biblioteca del Conservatorio di musica S.Pietro a Majella-Napoli
Cantata a voce sola di Soprano con oboè solo (e basso continuo)

Trascrizione a cura di Antonio Frigé

13 pag.

ISBN 978-88-98342-80-8

Despite Francesco Mancini spent all his life in Naples, where he was born in 1672 and where he died in 1737 after a stroke, he enjoyed a wide fame in Italy and in Europe, mainly as a opera and oratorio composer. A pupil of Francesco Provenzale and Gennaro Ursino at the "Pietà dei Turchini" conservatory in Naples, he was organist and also deputy of Alessandro Scarlatti in the direction of the royal chapel, becoming later its conductor: moreover, he was head of the conservatory in Santa Maria di Loreto. His vocal chamber music output includes around 200 cantatas, mostly for voice and continuo. The cantata presented here, preserved in San Pietro a Majella library (Naples), is unusually scored for a soprano voice, a oboe and continuo (Cantata à voce sola di soprano con oboè solo, del Sig. Francesco Mancini).
Files:

partitura

2.00€

parti

4.00€

score + parts

6.00€
Copyright Edizioni Pian & Forte 2017 - AssociazioneProMusica - P.iva 09754000967 - Tutti i diritti sono riservati -
Cookie Policy
-
Privacy Policy