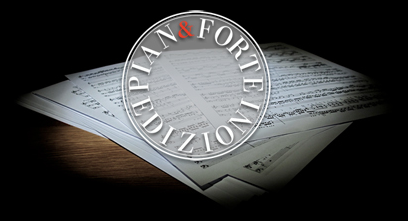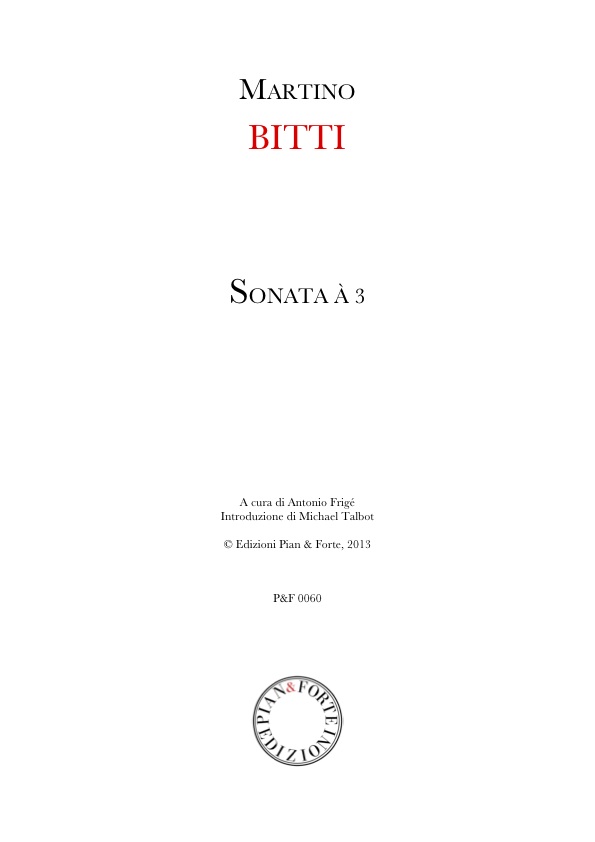 Sonata a' 3
(Instrumental music)
Sächsische Landesbibliothek - Staats - und Universitätsbibliothek Dresden
Sonata à 3: 2 violini con basso continuo

Trascrizione a cura di Antonio Frigé
Introduzione di Michael Talbot

13 pag.

ISBN 978-88-98342-59-4

Martino Bitti was born in 1665 or 1666 in Genoa. Joining the musicians at the court of Tuscany under Cosimo III in 1685, he rapidly rose to become primo violino and leader of the orchestra, and a favourite of the music-loving Grand Prince Ferdinando de' Medici. Unlike his Florentine contemporary Francesco Maria Veracini, Bitti, commonly known by his given name (or diminutive variants of it), travelled little outside Tuscany. He was a sought-after teacher of the violin in Florence, and was universally recognized as the outstanding musician residing there. He retired on a court pension in 1726 and died in 1743...

Bitti's sole surviving trio sonata for two violins and bass is strikingly similar, mutatis mutandis, to his violin sonatas. It survives in Dresden as a set of separate parts, (headed, respectively, "Sonata . à. 3. Del Sig.r Mar- tino Bitti | Violino. 1mo.", "Sonata . à. 3. Del Sig.r Mart: Bitti | Violino. 2do." and "Sonata . à. 3. Organo. del Sig:r M: Bitti.". The bass part, which served as a folder for the other two, has a separate title page reading: "A: 3 | SONATA . à. 3. | 2. Violini. | Con | Basso Continuo. | Del Sig:r Martino Bitti.".
The paper used, in upright format measuring approximately 33.5 x 21 cm, was presumably manufactured in Zittau (in south-eastern Saxony), since the words "ZITTAV" form one element of its watermark. The un- known copyist was very likely German and a colleague of Pisendel in the Hofkapelle; he probably copied out the parts from a score or from other parts in Pisendel's possession, although his exemplar is today lost...
Files:

partitura

2.00€

parti

4.00€

score + parts

6.00€
Copyright Edizioni Pian & Forte 2017 - AssociazioneProMusica - P.iva 09754000967 - Tutti i diritti sono riservati -
Cookie Policy
-
Privacy Policy