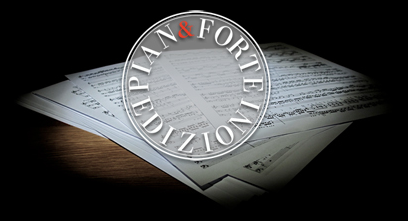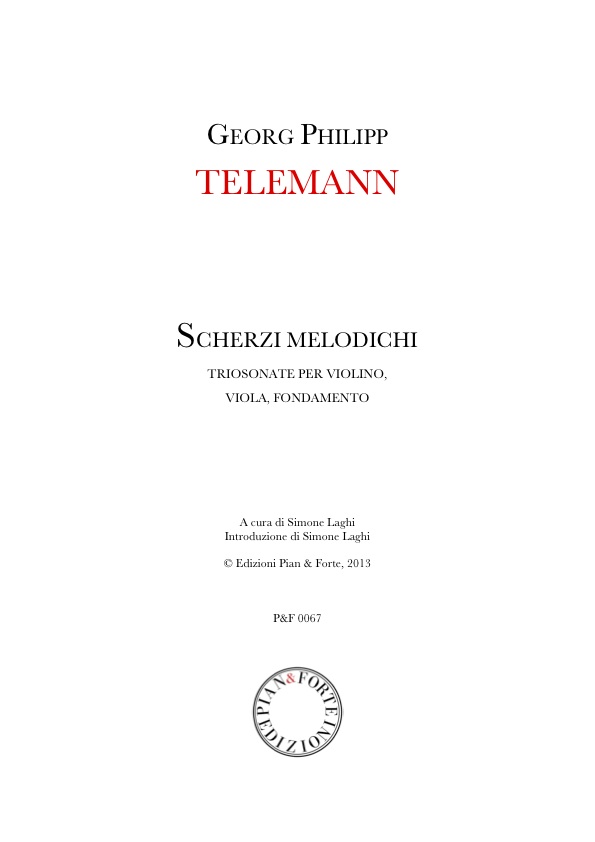 Scherzi melodichi
(Instrumental music)
Library of Congress, Washington (USA), M312.A2 T26 Case
Triosonate per violino, viola e fondamento

Trascrizione a cura di Simone Laghi
Introduzione di Simone Laghi

72 pag.

ISBN 978-88-98342-66-2

Scherzi Melodichi is a set of seven trio sonatas, or suites, for Violin, Viola and Fondamento, each one divided in seven movements, written in various keys (A, B, G, Es, e, g, D). Each sonata is named after a day of the week and, indeed, each Scherzo was originally performed on its corresponding day within a week's time during one of Telemann's stay at spa town Bad Pyrmont. Telemann's memoires and his dedication to Karl August Friedrich, Prince of Waldeck and Pyrmont, on the title page of the Scherzi confirm that he was a regular visitor of this resort: he had most certainly been there on three occasions before 1734 and, after, in 1736, 1742 and 1751 to cure a not well specified condition, which Telemann mentioned in his Zwei Geistliche Kantaten of 1730.
The frontispiece of the Scherzi indicates "Settimana Prima" (First Week), which could imply that Telemann had in mind an ambitious long-term project in Bad Pyrmont, but no further evidence has been found to prove this theory. The introductory letter is written in Italian, as the pieces are explicitely composed in Stile Italiano. In this letter, Telemann says that these "pezzetti" (little pieces) or "ariette" (little arias), as he called them, were composed to praise the prodigious effects of the mineral waters of Pyrmont, providing music which was meant to be at the same time easy and joyful...
Files:

partitura

8.00€

parti

12.00€

score + parts

20.00€
Copyright Edizioni Pian & Forte 2017 - AssociazioneProMusica - P.iva 09754000967 - Tutti i diritti sono riservati -
Cookie Policy
-
Privacy Policy