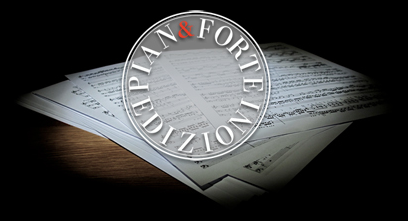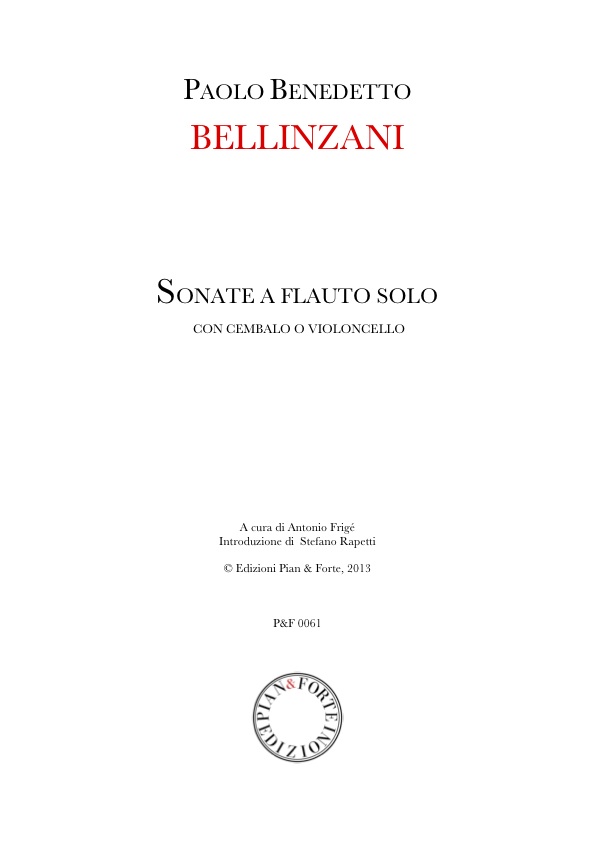 Sonate a Flauto solo (opera terza)
(Instrumental music)
Museo internazionale e Biblioteca della musica di Bologna
[12] Sonate a Flauto solo con cembalo, o violoncello

Trascrizione a cura di Antonio Frigé
Introduzione di Stefano Rapetti

67 pag.

ISBN: 978-88-98342-60-0

Dominus Paolo Benedetto Bellinzani (Ferrara - or Mantova -, 1690; Recanati, 1757), gaining most of his fame in the modern era, was a composer of mostly sacred vocal works, although he also composed two series of instrumental compositions, the 'Sonatas for two violins and bass in imitation of those of Arcangelo Corelli" and "Sonatas for flute with harpsichord or violoncello", presented in this edition.
The publication by movable type from Venice by the publisher Bortoli dates back to 1720, when Bellinzani was the choir master of the Cathedral of Udine. It is interesting to note that while almost all the contemporary composers printed compositions for 'violin or flute', limiting the extension of the former for the latter, the present sonatas, similar to those slightly earlier (1712) of Benedetto Marcello (who Bellinzani describes, not by chance, "never sufficiently commended", are exclusively destined for the flute (and it is certain that during those years the generic term "flute" indicates the recorder and not the "alemanno flute" ie sideways.)...

Files:

Partitura

10.00€

Parti

15.00€

score + parts

25.00€
Copyright Edizioni Pian & Forte 2017 - AssociazioneProMusica - P.iva 09754000967 - Tutti i diritti sono riservati -
Cookie Policy
-
Privacy Policy