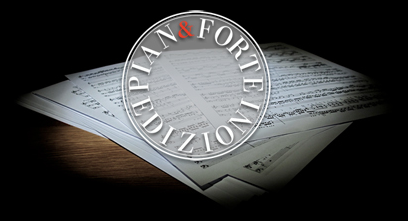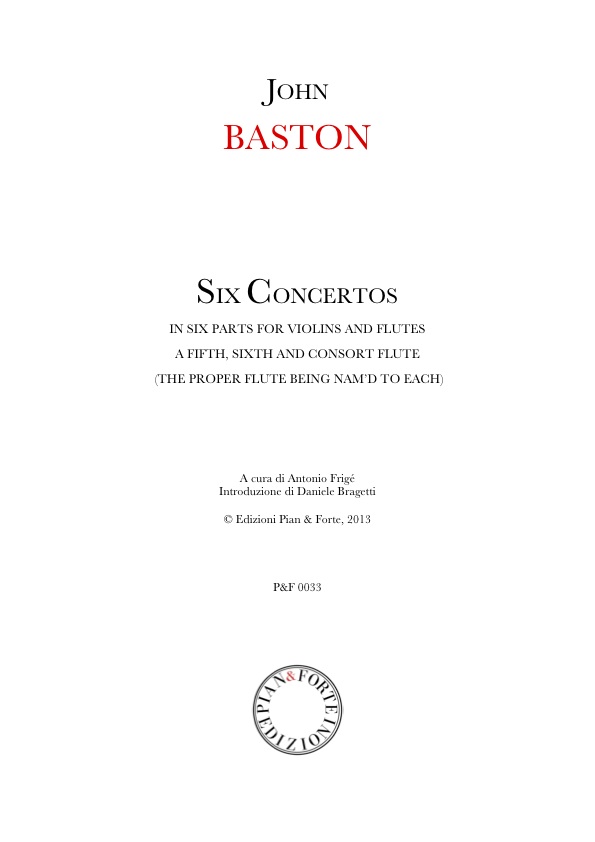 Six Concertos in six parts for violins and flutes
(Instrumental music)
British Library
Trascrizione a cura di Antonio Frigé
Introduzione di Daniele Bragetti

99 pag.

ISBN 978-88-98342-32-7

John Baston, an English recorder player and violoncellist born in 1685, represents a figure of a certain importance to the musical life of London in the early decades of 1700's. About his education, we do not have any information. But in 1709, he performed with his brother, Thomas, a recorder player and violinist, in the Stationer's Hall in London in a performance of a concerto grosso for flute and violin.
In the following years he performed in numerous public concerts on recorder, often during the intervals of various theatres in London, such as Drury Lane, Coachmaker's Hall, Stationer's Hall, Lincoln's Inn Field Theatre, in the company of his brother. The repertoire consisted of their own songs and those of other composers, notably, Charles Dieupart (French composer who settled in London), William Babell and Thomas Woodcock. These last two are authors of another two important collections of English recorder concertos. It is interesting to note that in these two collections, there are two concertos for two recorders; it has been speculated that they may have been written for the Baston brothers.
In 1739, the year of his death, John Baston was one of the founders of the Society of Musicians of London...
Files:

partitura

10.00€

parti

18.00€

score + parts

28.00€
Copyright Edizioni Pian & Forte 2017 - AssociazioneProMusica - P.iva 09754000967 - Tutti i diritti sono riservati -
Cookie Policy
-
Privacy Policy