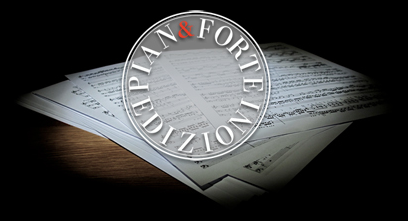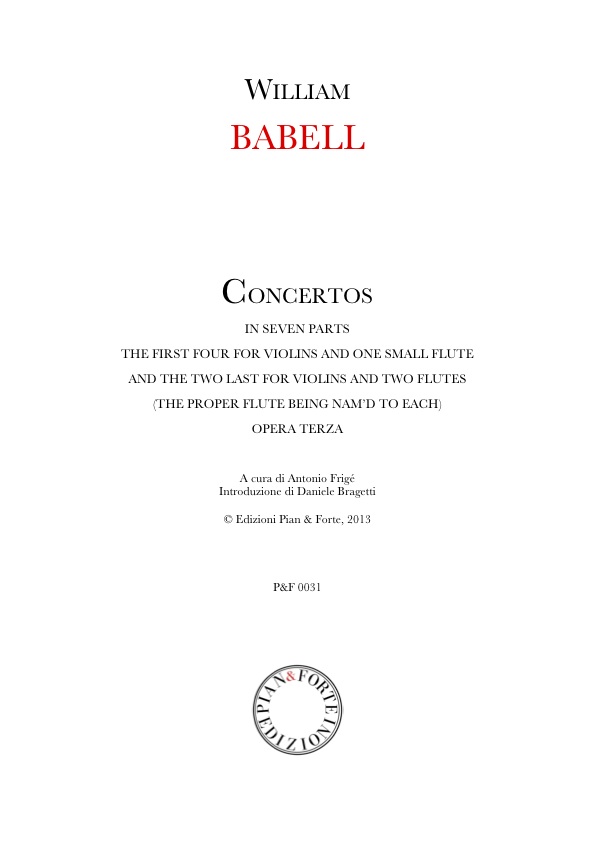 Concertos in seven parts - Opera terza
(Instrumental music)
Musik-och teaterbiblioteket, Stockholm
"Concertos in seven parts: the first four for violins and one small flute and the two last for violins and two flutes (the proper flute being nam'd to each)

Trascrizione a cura di Antonio Frigé
Introduzione di Daniele Bragetti

140 pag.

ISBN 978-88-98342-31-0

William Babell was born in 1689 or 1690 and died prematurely in 1723. In addition to being a violinist in the private orchestra of George I, he was one of the most gifted organists of his time, considered by Mattheson to be superior to Handel. He was criticised by Charles Burney for his virtuosity, but instead esteemed by John Hawkins. Amongst the music he produced, including various collections of arrangements for harpsichord of opera arias, stands this collection, Concertos in 7 Parts: the first four for Violins and one small Flute and the two last for Violins and two small Flutes. The proper Flute being nam'd to each Concerto, published posthumously in London in 1726. It is the first in chronological order of the three important collections for recorder and strings edited by John Walsh, along with the other two by Robert Woodcock (1727) and John Baston (1729). This collection is one of the last of relevance that this publisher dedicated to the recorder, an instrument that in England, as in the rest of Europe, was starting to decline.
These compositions were already known to London audiences for many years (on the front page of the publication Walsh writes 'perform'd at the Theatre with great applause') and some of the most famous recorder virtuosos active in the early 1700's, including the same John Baston (with his brother Thomas, also on recorder) performed often the concertos of Babell for two recorders and strings in their concerts in various theatres of the city, such as Drury Lane, Coachmaker's Hall, Lincoln's Inn, Field Theatre and Stationer's Hall...
Files:

partitura

14.00€

parti

22.00€

score + parts

36.00€
Copyright Edizioni Pian & Forte 2017 - AssociazioneProMusica - P.iva 09754000967 - Tutti i diritti sono riservati -
Cookie Policy
-
Privacy Policy