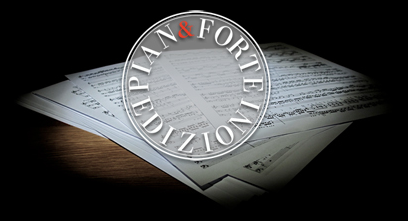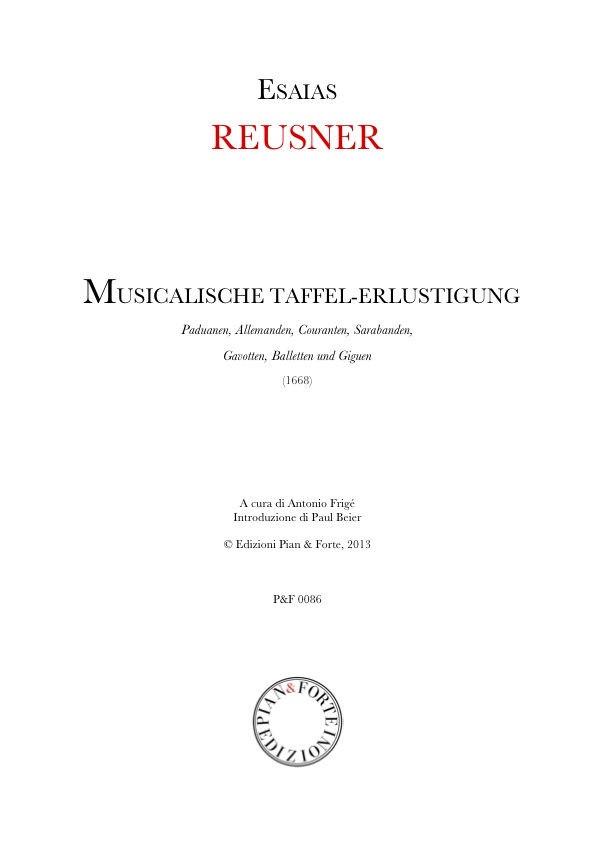 Musicalische Taffel-erlustigung
(Instrumental music)
1668
Paduanen, Allemanden, Couranten, Sarabanden, Gavotten, Balletten und Giguen (1668)

Trascrizione a cura di Antonio Frigé
Introduzione di Paul Beier

81 pag.

ISBN 978-88-98342-85-3

Esaias Reusner the Younger was born in Lehmberg, in the Bohemian province of Silesia, in 1636. His father, Esaias Reusner the Elder, was a well-known lutenist who, like his son, published lute music and four-part ensemble music, and his mother, Blandina, was the daughter of Johann Reich, court musician of the Elector of Brandenburg. In Reusner's early youth, Lehmberg was the scene of horrendous destruction during the Thirty Years War; by the end of that war its population was nearly decimated. The young Reusner was sent to safety in the capital Breslau (now Wroclaw, Poland) and, at the war's end, he became valet to Princess Radziwill in Poland, where he studied lute and composition with an unidentified "French master." In 1654 he returned to Silesia and the next year became lutenist to Georg III, duke of Lignitz, Brieg and Wolau. He married Maria Böhme in 1660, and upon Georg III's death in 1664 he assumed service to Christian, the duke's heir and brother. During this period Reusner travelled widely in Europe; he is to be found, for example, at the Imperial palace in Vienna playing for Emperor Leopold I. When Christian died in 1672, Reusner took up a position at the University of Leipzig, and served as theorbist at the Thomaskirche under Sebastian Knüpfer. His stay at Leipzig, however, did not last long, as later in the same year he became court lutenist to the Elector of Brandenburg, Frederick William, in Berlin, where he served until his death in 1679...
Files:

partitura

11.00€

parti

13.00€

score + parts

24.00€
Copyright Edizioni Pian & Forte 2017 - AssociazioneProMusica - P.iva 09754000967 - Tutti i diritti sono riservati -
Cookie Policy
-
Privacy Policy