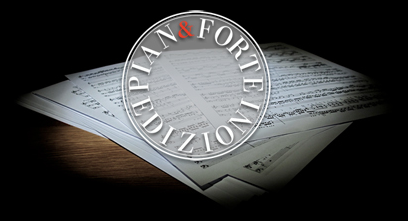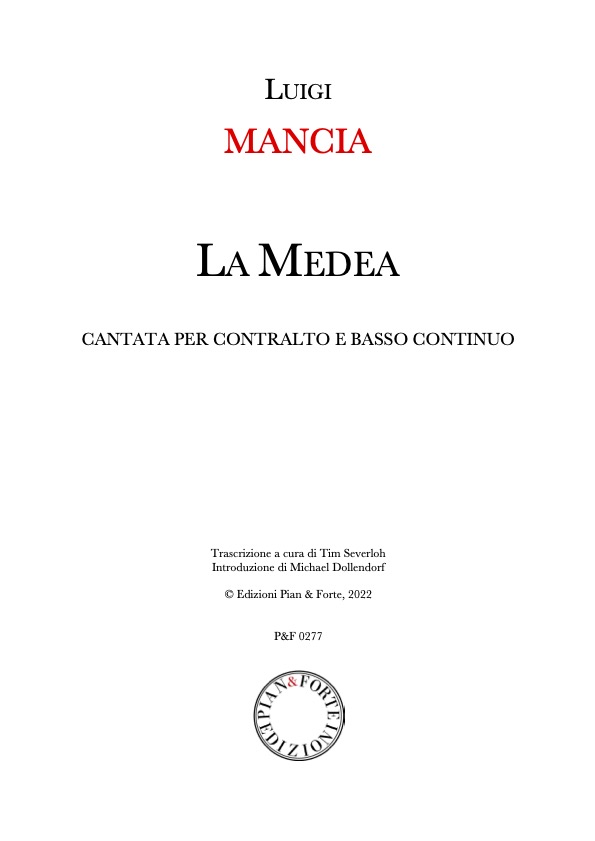 La Medea - Cantata per Contralto e Basso continuo
(Secular vocal music)
Sächsische Landesbibliothek, Staats- und Universitätsbibliothek - Dresden Signatur: Mus. 1-J-2,2
Trascrizione a cura di Tim Severloh
Introduzione di Michael Dollendorf

ISMN 979-0-705102-51-2

17 pagine

Born in 1665, most likely in Brescia, Luigi Mancia crossed the Alps for the first time in 1687, accompanying another singer, Ferdiando Chiaravalle to the Elector's court in Hannover. Here he wrote his first opera, Paride in Ida, being just 22 year old. The musical tastes at court were changing around this time. Before French musicians had dominated all over Europe, since all minor princes tried to follow the example of Louis XIV and have their own little Versailles. In 1689 Agostino Steffani became court composer and the transition to an Italian musical establishment was final. Here Mancia also met the Elector's daughter, Sophie Charlotte, a fine harpsichord and guitar player, who would marry the Elector of Brandenburg a few years later. He would crown himself King in Prussia in 1701 and she would be his Queen.
1695 we find Mancia back in Italy, where his first operas written for Rome were staged. In 1697 he was in Hannover again and in Berlin. Sophie Charlotte had brought a number of Italian musicians to her court. A year later we find him in Naples and in 1701 in Düsseldorf. This is most important, since he wrote a cantata for Habsburg's Karl III of Austria, a claimant to the Spanish throne.
When the King of Spain, Carlos II, died on 1 November 1700, Louis XIV of France choose to ignore previous agreements about the Spanish succession and war was declared between the European powers. This war dragged on until 1714, even though there was a devastating defeat of the French by the English commander John Churchill, Duke of Marlborough, who had won the battle of Blenheim 1704. John Churchill's wife Sarah was a lady at the court of Queen Anne, and it was she who recommended Mancia to the Queen after the English ambassador to Venice, Charles Mantagu, Duke of Manchester, wrote to her in Mancia's favor.
From this letter we know that Luigi Mancia was not just a singer and composer, but that he also played oboe, bassoon, guitar and harpsichord to perfection and that he spoke German and French. In 1707 he arrived with the Venetian ambassador in London but soon returned to Italy. There he composed a cantata in honor of the wife of Karl III, most likely because he was looking for a position at court. In 1708 he was seeking employment in England with Queen Anne. There are no further records after this date.
Mancia choose the subjects for his dramatic works from pastoral themes, from mythology or from history. He is a straight forward storyteller. Putting the drama center stage, he avoids many repetitions and da capo forms.
His Medea is an explosion of emotions. The left behind princess, the cast away wife, is eaten up from the inside and thinks of nothing but revenge. The piece is virtuosic in the sense that text, music and emotions need to be delivered with much vigor and speed. The vocal range of just an octave is not a challenge, to play the part is. The performer must be an actress as much as a singer.
The cantata, maybe better referred to as dramatic scene, was a popular small scale entertainment for those nights when no opera was given. Well over 35 cantatas and 15 operas by Mancia are known. Medea is a very fine example.

Files:

Partitura

7.00€
Copyright Edizioni Pian & Forte 2017 - AssociazioneProMusica - P.iva 09754000967 - Tutti i diritti sono riservati -
Cookie Policy
-
Privacy Policy