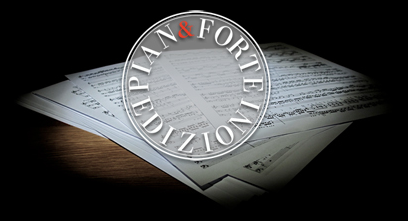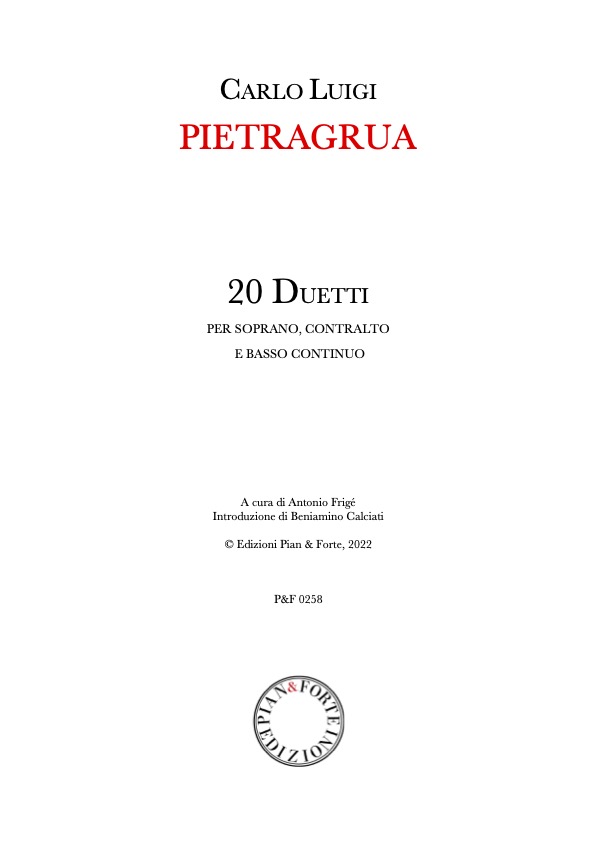 20 Duetti per Soprano, Contrlto e Basso continuo
(Secular vocal music)
Sächsische Landesbibliothek - Staats - und Universitätsbibliothek Dresden
Trascrizione a cura di Antonio Frigé
Introduzione di Beniamino Calciati

ISMN 979-0-705102-46-8

134 pagine

Carlo Luigi Pietragrua (ca.1665-27.03.1726) has been researched by Andreas Freitäger, to whom we are happy to refer for an exhaustive understanding of the composer. This contribution provides information on the family and draws up a valuable catalog of works dividing the compositions of certain attribution from the dubious ones, highlighting the presence of gaps or unverifiable information in previous literature, mainly encyclopedic.
Following Freitäger's catalogue, it is possible to divide Pietragrua's professional career into three periods: the Dresden period at the court chapel of the Elector of Saxony, as a contralto and later as Vizekapellmeister (1687-1694); the period in Düsseldorf as Vizekapellmeister at the court of Johann Wilhelm (1694-1719); and the Venetian period (1719-1726) as Choir Master at the Hospital "Della Pietà".
The relationship between Pietragrua and Agostino Steffani (1655-1728) is documented, and some doubtful compositions are mutually attributed sometimes to one, sometimes to the other...
Files:

Partitura

15.00€
Copyright Edizioni Pian & Forte 2017 - AssociazioneProMusica - P.iva 09754000967 - Tutti i diritti sono riservati -
Cookie Policy
-
Privacy Policy