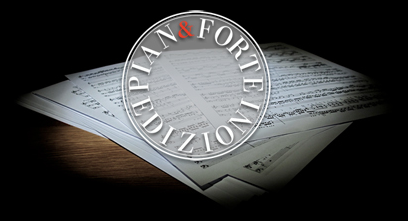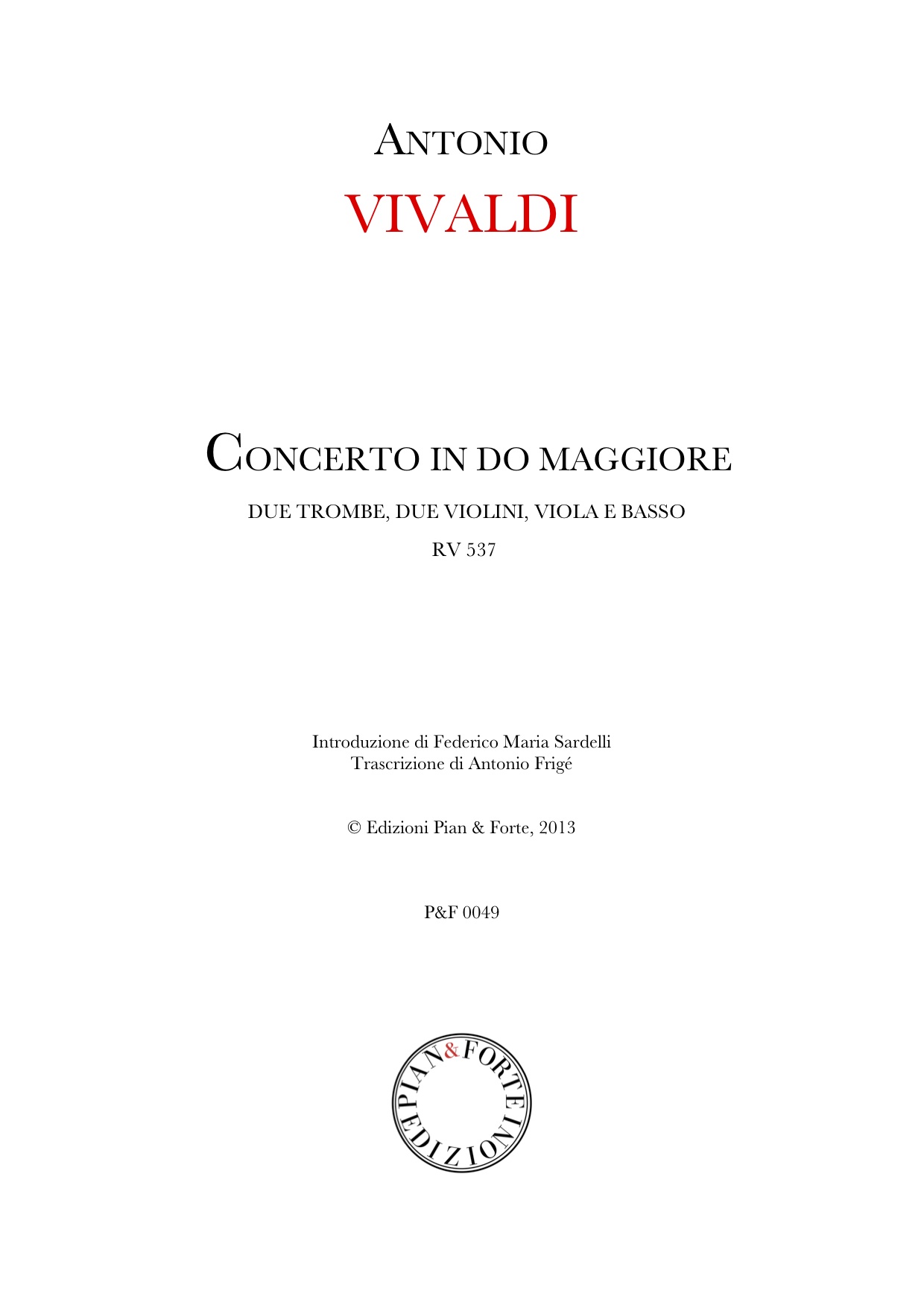 Concerto in Do Maggiore RV 537
(Instrumental music)
Biblioteca Nazionale di Torino, fondo Giordano 31
per due trombe, due violini, viola e basso

Introduzione di Federico Maria Sardelli
Trascrizione di Antonio Frigé

30 pag.

ISBN 978-88-98342-49-5

It is well known that Vivaldi composed music for all the instruments popular in his age, always showing great skill and knowledge of the technical demands for each of them. Up to now, however, the trumpet repertoire listed in Vivaldi's catalogue has not yet been sufficiently analyzed and appreciated; and yet, if considered in its whole extension, it appears really remarkable...

... The Concerto for two trumpets RV 537 is a very spontaneous work as testified by the unique autograph in our possession. It is precisely this quick, effortless writing which generates problems for the interpretation and transcription of the original. To score the work Vivaldi used sheets with ten pentagrams, as he usually did when writing his "Concerti a cinque" (that is for one soloist and string orchestra in 4 parts). To gain space he alternated the writing for the two soloists both on a single pentagram, or when it was possible, using the violins' one. This caused a lot of confusion to Vivaldi himself, at least in two places: in the first movement, bar 3 and in the whole Introduction of the third. As a matter of fact, he added further corrections to a single, overcrowded pentagram already scored for two trumpets.
In the first movement, bar 3, Vivaldi rectified the 2nd trumpet by adding a C3 as last note of the sequence C-D-E-F and a G3 as its resolution, instead of a G4; in this way he avoided to produce hidden octaves with the bass and adapted the 2nd trumpet part to the 2nd violin's. At the opening of the third movement the first notes of the trumpet were initially written with stems downward. Vivaldi immediately rectified his writing by adding stems upward, appointing therefore this very beginning to the 1st trumpet.
Initially he resolved to end each phrase of the canon by doubling the sound an octave lower. Later, however, he contradicted this decision and all these notes were cancelled. At bar 7 he inverted the direction of the stems, starting to write the 1st trumpet with stems downward and vice-versa. This confusion in the writing led Gian Francesco Malipiero – in his Ricordi edition 1950 which is still sold nowadays – to equalize the alternation between the trumpets , that is giving the very end of the sequence to the 1st trumpet and not to the 2nd,, as it would make a sense according to the very beginning. These small misunderstandings in the effortlessly written piece were also caused by the fact that the 2nd an 3rd Movements of RV 537 were not original compositions as it was the case of the 1st, but were transcriptions and re- arrangements of a former String Concert (Concerto per Archi) RV 110...


Files:

partitura

5.00€

parti

10.00€

score + parts

15.00€
Copyright Edizioni Pian & Forte 2017 - AssociazioneProMusica - P.iva 09754000967 - Tutti i diritti sono riservati -
Cookie Policy
-
Privacy Policy