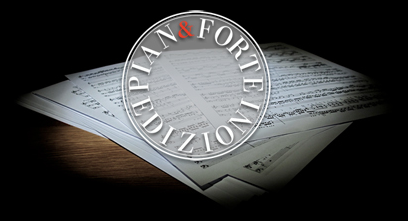 home
>
Sacred vocal music
> Salmi di compieta - a tre e quattro voci con violini Opera Decima (Bassani Giovanni Battista)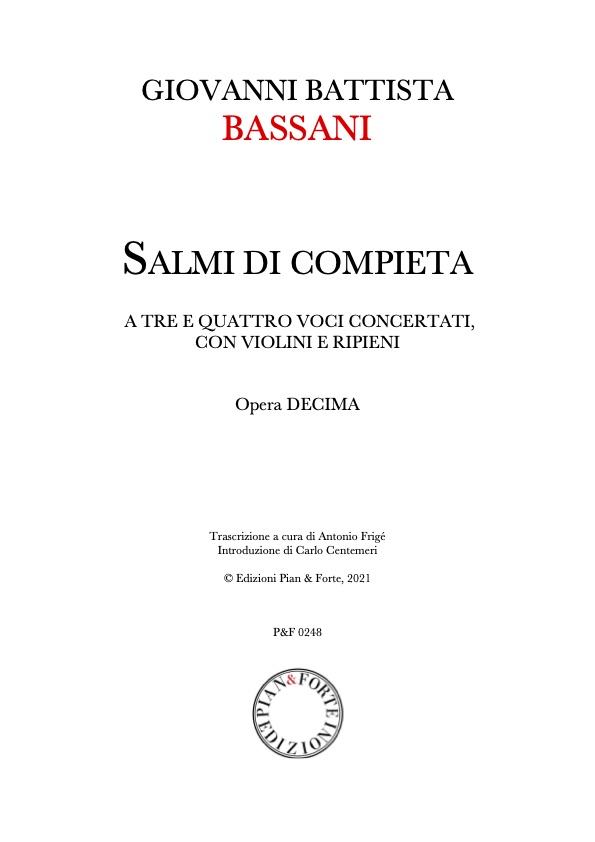 Salmi di compieta - a tre e quattro voci con violini Opera Decima
(Sacred vocal music)
Museo internazionale e Biblioteca della musica di Bologna
Trascrizione a cura di Antonio Frigé
Introduzione di Carlo Centemeri

ISMN 979-0-705102-36-9

190 pagine

At the end of the 1680's, Giovanni Battista Bassani is at the top of his career: he is, in fact, the master of music of both the main musical institutions in Ferrara (the Cathedral and the Confraternita della Morte). In parallel, his creative activity produces operas, oratorios and music (both sacred and secular) to be printed. In 1691, Sala prints in Venice a collection of Compline Psalms by Bassani (he would release a second collection of these psalms ten years later, his opus 25 in 1701), that are paired with the collection of Psalms that had been released the year before (opus 9).
The style of Bassani's compline psalms is very similar to the one already used in the collection of the previous year, using different approaches (dialogues between vocal sections, imitations, dialogues solo-tutti, etc), with a very Italianate approach to string instruments (violins play in introductions, while in vocal sections their task is mainly to be an ornamentation of the whole sound).
It is particularly interesting to compare these psalms with the "salmi brevi" (short psalms) that Giovanni Paolo Colonna published in the same year (also in his case they were his opus X): these psalms use the same approach (solos, choir and strings) but their approach is much more led by his love for counterpoint and they use the five voices and the five instruments to build sections up to ten voices. So Colonna – who was principe dei filarmonici di Bologna and master of music in San Petronio and therefore the leading musical authority in the area – tries to adapt the ancient methods to a modern taste, while Bassani tries a more radical approach: in his works are evident the knowledge of the works of the ancient masters, as well as his own strong counterpoint skills (with a constant influence of the Venice school, Cavalli in particular), but nonetheless Bassani wants to innovate, looking for a simpler style that, somewhat, prefigures the gallant style. In addition, Bassani plays with many different dynamic stages with a continuous change of the scoring: the three introductory numbers (Jube Domine, Confiteor, Converte nos) is built over soloists that, in the first and in the third ones, sing in alternance while meeting in some short four part sections: in the Confiteor, instead, we meet a real solo cantata with instruments. The following psalms, instead, play with a perpetual change of voices: the first and the last psalm (Cum Invocarem and Nunc Dimittis) are the most majestic ones (solos, ripieno choir, violins and continuo), while the other ones are smaller (two three-part psalms, two four-part psalms and a solo psalm). However Bassani behaves like an organist: for him, many instrumental parts are like an instrument with many stops and therefore a big number of colors that can be built recombining them. This leads to show even the dynamic effect that Bassani desires and this is particularly interesting considering that he lives in a world where the music notation still does not know how to describe agogic and dynamic marks and therefore needs to find alternative approaches for the sections where the performer should do something different from what would have been the performance practice rules that any instrumentalist would have applied.
These Compline psalms, therefore, need to be considered as an extraordinary important collection, in particular because they show the extraordinary skills of Bassani as an expert architect of sound.

Files:

Partitura

18.00€

Parti

10.00€

score + parts

28.00€
Copyright Edizioni Pian & Forte 2017 - AssociazioneProMusica - P.iva 09754000967 - Tutti i diritti sono riservati -
Cookie Policy
-
Privacy Policy