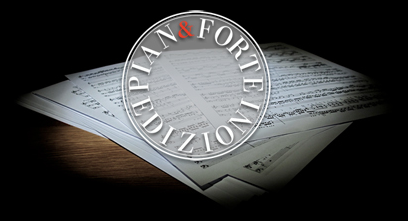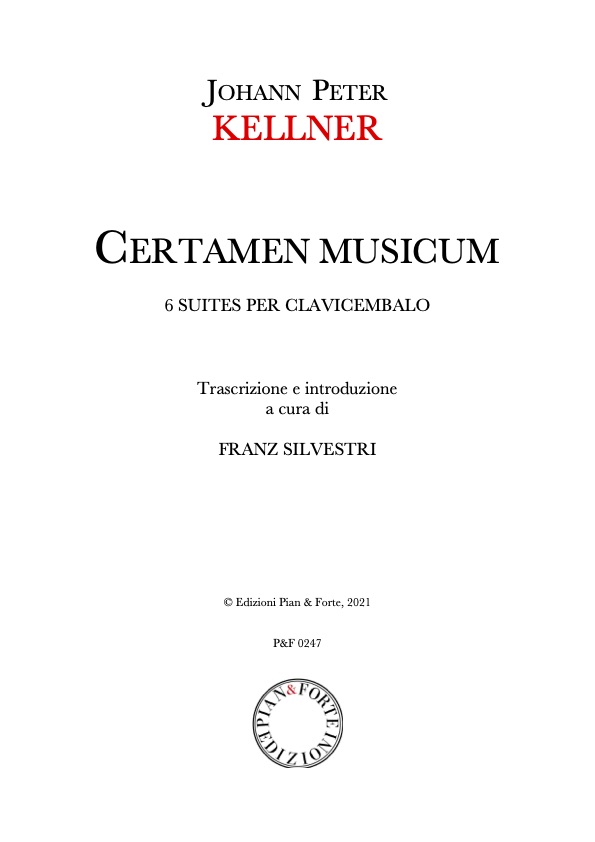 Certamen musicum - Sei Suites per clavicembalo
(Instrumental music)
Trascrizione e introduzione a cura di Franz Silvestri

ISMN 979-0-705102-35-2

141 pag.

The present publication is the world's first critical edition of Kellner's "Certamen Musicum", six harpsichord suites first printed in Arnstadt, of which a copy is extant in Berlin's Staatsbibliothek. This collection includes many obvious engraving errors: our corrections follow a clear harmony and counterpoint logic, leaving no doubts whatsoever about the composer's intentions.
Every one of these Suites is preceded by a frontispiece which includes a date: Suite I 1748, Suite II 1743, Suite III 1748, Suite IV 1748, Suite V 1748, Suite VI 1749. The total number 6 is also found in many collections of music for harpsichord, organ and orchestra by J.S. Bach and other contemporary composers.
A particular feature of these Suites is that each one begins with a Prelude and Fugue. The succeeding movements include always an Allemande and a Courante, but we also find Sarabandes, Andantes, Minuets, Gigues, Allegros, one Aria, Marches and a peculiar "par Plaisier" ending the Third Suite. The manual range only rarely descends below C and never exceeds the d''', no doubt to allow playing the music on keyboards with a range smaller than the typical five octaves of contemporary harpsichords.
Movements derived from dance forms have a linear simple structure, mainly in two voices. There are few written embellishments, and nowhere do we find any allusion to the French style (exception: the Sarabande in Suite III). The hints at a "gallant" style suggests that Kellner was acquainted with the work of C.P.E. Bach: this is noticeable in the Prelude (with a "Da Capo") and Andante of Suite II, and in the Prelude (marked "Adagio") and succeeding Adagio of Suite V. The "forte" and "piano" (or else "f" and "p") markings in the Prelude of Suite II, the Allegro of Suite IV and the final Allegro of Suite V, suggest the use of either a second manual or a clavichord. The disarming simplicity of the Prelude of Suite VI is followed by one of the longest pieces in the whole collection, a Fugue in 3 voices with a 5-bar subject and a total of 108 bars. The Fugue in 3 voices of Suite II is even more peculiar, with a 10-bar long subject and a total of 127 bars, ending with a short 4-bar adagio.
At the end of the work we notice the abbreviation S.D.G. (Soli Deo Gloria), also used by other German 18th century composers.
Files:

Partitura

12.00€
Copyright Edizioni Pian & Forte 2017 - AssociazioneProMusica - P.iva 09754000967 - Tutti i diritti sono riservati -
Cookie Policy
-
Privacy Policy