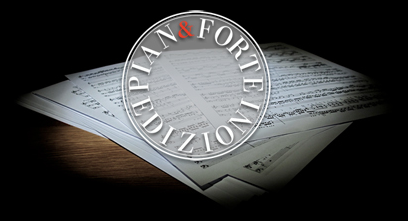 home
>
Instrumental music
> Concerto per Flauto dolce, Violino concertante, archi e cembalo (Graun Johann Gottlieb)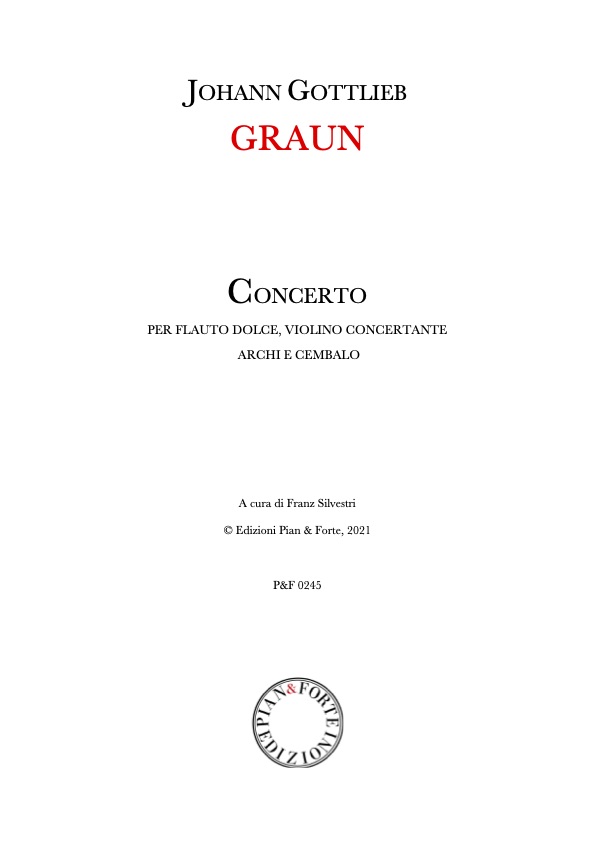 Concerto per Flauto dolce, Violino concertante, archi e cembalo
(Instrumental music)
Universitäts-und Landesbibliothek Darmstadt
Trascrizione a cura di Franz Silvestri
Introduzione di Franz Silvestri

ISMN 979-07-05102-32-1

32 pagine

Johann Gottlieb Graun was a German violinist, composer and orchestra conductor, born in Wahrenbrück. His precise birth date is unknown, but it was certainly between the 28 October 1702 and the 27 October 1703. He died in Berlin on the 27 October 1771. His father was a civil servant, his ancestors were Lutheran priests. His father's three sons got their musical education from the organist Johann David Cocler.
His elder brother August Friederich (1698-99/1765) was a composer and organist and was one of the candidates to succeed J. S. Bach in Leipzig in 1750. His other brother Carl Heinrich (1703-4/1759), composer and singer, was a well known character, surely the most important of the three brothers: he studied the harpsichord with Pezold, was a friend of Pisendel, Quantz and L. Weiss, worked also in Italy as singers' agent (appointed by Frederick II) and created a peculiar solmisation method.
J. G. Graun was a student of Pisendel at Dresden's Kreuzschule. He also studied at the University of Leipzig and in Prague during six months in 1723: he also had lessons from Tartini in Padua. In 1726 he was appointed Konzertmeister in Merseburg, where J. S. Bach entrusted him his son Wilhelm Friedemann as a violin student: this shows his reputation on this instrument.
He worked for the Prince of Waldreck in Arolsen from 1727 onwards: the small ensemble of musicians and singers had a repertoire including a large amount of Italian music as well as works by Telemann. In 1728 he played at the Royal Court of Prussia in Berlin and was praised by Pietro Locatelli.
Since 1731 he worked for Prince Frederick of Prussia in Rheinsberg. When Frederick become king, Graun became the conductor of the royal orchestra in Berlin, from 1740 until his death.
Files:

Partitura

5.00€

Parti

7.00€

score + parts

12.00€
Copyright Edizioni Pian & Forte 2017 - AssociazioneProMusica - P.iva 09754000967 - Tutti i diritti sono riservati -
Cookie Policy
-
Privacy Policy