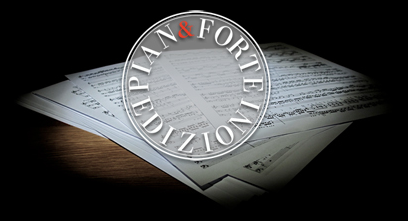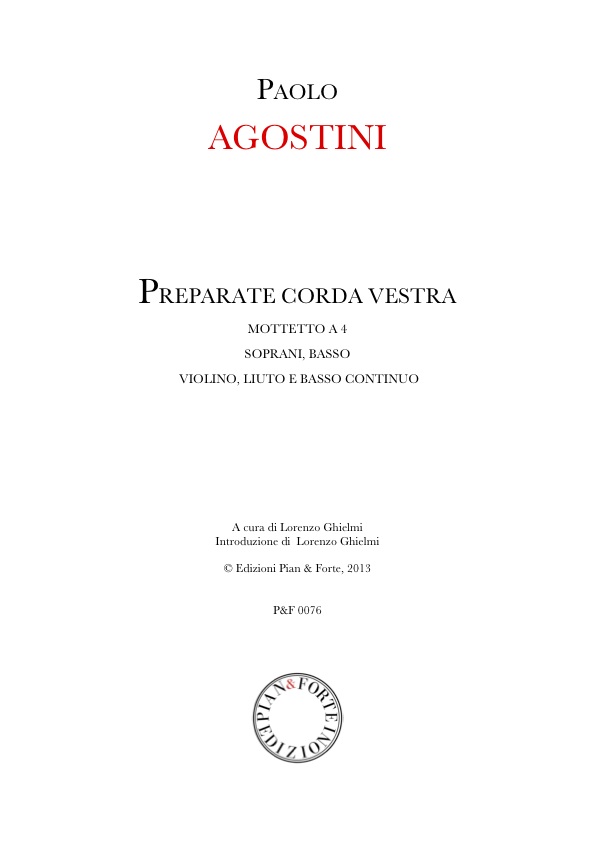 Preparate corda vestra
(Sacred vocal music)
Museo internazionale e Biblioteca della musica di Bologna
Mottetto a 4; Soprano, Basso, violino, liuto e basso continuo

Trascrizione a cura di Lorenzo Ghielmi
Introduzione di Lorenzo Ghielmi

9 pag.

ISBN 978-88-98342-75-4

Paolo Agostini (or Agostino) was born around 1583 at Vallerano, near Viterbo. He became a student of Giovanni Bernardino Nanino, whose daughter he later married. He held a series of positions as organist and maestro di cappella in different churches in Rome between 1607 and 1626, when he succeeded Vincenzo Ugolini as maestro of the Cappella Giuliaìs choir in St. Peter's Basilica.
All of his surviving works are sacred music and he was considered a skilled writer of counterpoint, often using strict canonic techniques. The motet "Preparate corda vestra" was published in "Sacri affetti contesti da diversi eccelentissimi autori Raccolti da Francesco Sammaruco Romano A 2. A 3. A 4. è Aggiuntui (sic) nel fine le letanie della B. V. - Apud Lucam Antonium Soldum. In aedibus sancti Spiritus in Saxia. Anno. Jubbilei. 1625"...
Files:

partitura

2.50€

parti

3.50€

score + parts

6.00€
Copyright Edizioni Pian & Forte 2017 - AssociazioneProMusica - P.iva 09754000967 - Tutti i diritti sono riservati -
Cookie Policy
-
Privacy Policy