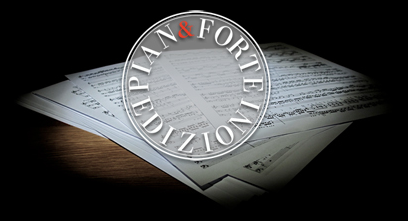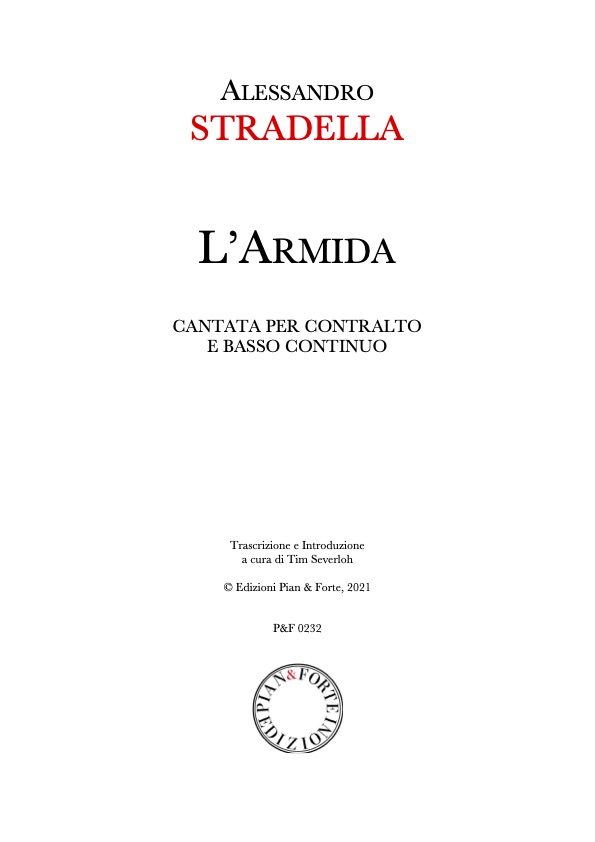 L'Armida - Cantata per Contralto e Basso continuo
(Secular vocal music)
D-Hs - Hamburg - Staats und Universitätsbibliothek Carl von Ossietzky, Musiksammlung ND VI 2263,1(13)
Trascrizione e Introduzione a cura di Tim Severloh

ISMN 979-0-705102-20-8

35 pag.

Antonio Alessandro Boncompagno Stradella certainly is among the most important Italian composers of his generation. Like many of his colleagues, he was also an accomplished singer and violinist. There is ongoing controversy over the time and place of his birth, but according to the most likely hypothesis he was born on April 3, 1639 in Nepi, a small town located between Rome and Viterbo. Other alternatives include Bologna, Rome, Modena, and Naples, and the years between 1639 and 1645.The son of a wealthy family of minor nobility, Stradella lived a life that from a very young age was marked by frequent upheaval and inconstancy. As early as 1639, his family was forced to flee repeatedly from the armed conflict between the Farnese and Barberini families. After the death of his father in 1648, his mother took her two youngest sons, Alessandro and Stefano, to Rome, where Stradella, probably in 1653, began his musical training with Ercole Bernabei. No record of his later education survives. In 1667, he received his first commission that we know of, composing a Latin oratorio for Lent for the Archbrotherhood of Santissimo Crocifisso di San Marcello. Stradella's career included periods of great success, fame, and productivity, but was also marred by personal troubles caused by multiple affairs and swindling, which sent him on the run from both his enemies and the authorities. His colorful life came to a brutal end when he was murdered on February 25, 1682 in Genoa. Despite his itinerant existence and having his life threatened several times, Stradella left a large and innovative body of work encompassing virtually every genre of his day. His music almost certainly had a major influence on the development of the form that was to become the concerto grosso. Cantatas for solo voice and basso continuo make up the largest and most significant part of his oeuvre.

Files:

Partitura

5.00€
Copyright Edizioni Pian & Forte 2017 - AssociazioneProMusica - P.iva 09754000967 - Tutti i diritti sono riservati -
Cookie Policy
-
Privacy Policy