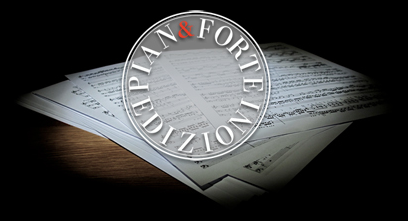 home
>
Sacred vocal music
> Exultent, concinant - Oratorio a Soprano solo, 2 violini e basso continuo (Melani Alessandro)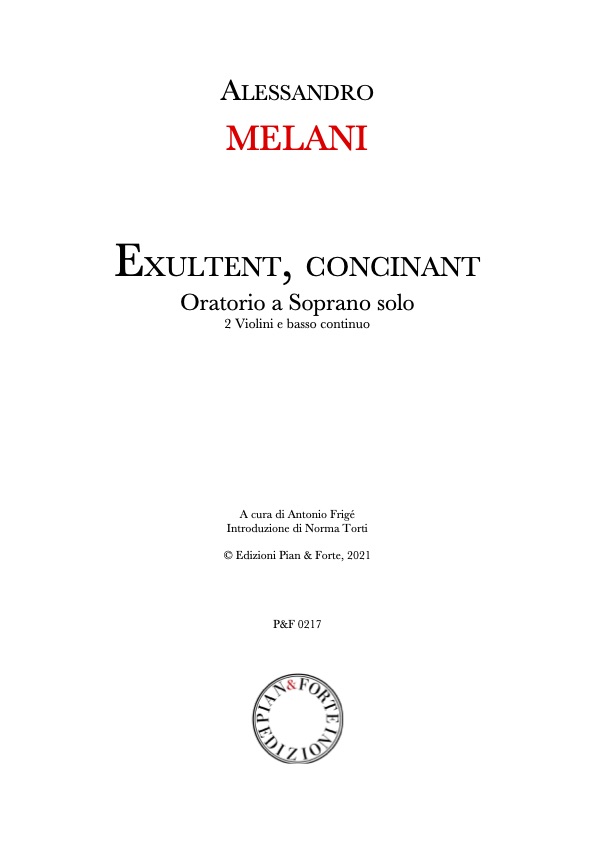 Exultent, concinant - Oratorio a Soprano solo, 2 violini e basso continuo
(Sacred vocal music)
Universitetsbibliotek, Carolina Rediviva (S-Uu) Vok. mus. i hs. 28:10
Trascrizione a cura di Antonio Frigé
Introduzione di Norma Torti

20 pag.

ISMN 979-0-705102-06-2

In the cantata and oratorio production from the second half of the seventeenth century on, alongside the classic themes of love, mythology and the pastoral world, we find on the scene characters of ancient history or even recent political history, if not contemporary. The big theme of putting in scene the royalty, the theatre of rulership, dominates the baroque era. In it, the new awareness of a power that lives by signs, emblems, symbols and celebrations - as occurred in an exemplary way at the court of the Sun King, is represented. Also the cantatas and oratorios, other than restitute a faithful image of the historical context of the period, celebrate in music the appreciation of a determined government. The secular power of the king has all the more the need for signs, as his divine right is put in discussion. The baroque era is the era of the triumph of signs and the art of interpretation, before the background of the fear that nothing could be real.
In that, the spiritual power of the church is really majestic, because it is based since always on the signs of a scripture and its interpretation, to find a truth. Alessandro Melani has always remained inside of this Roman context, in the prolific blend of art, spirit and political history. For the composition of his cantatas and his oratories he enjoyed the patronage of the families Chigi, Borghese and Ottoboni, and especially of the cardinal Benedetto Phamphilj, who had composed numerous librettos and oratorios, other than musical theatre, and was patron also of Scarlatti, Corelli, and Händel. Melani entered also in the benefit of pope Innocenzo XI, for whom the oratorio Golia abbattuto was composed. It was probably written in 1683 to celebrate the holy league and the victory of the king of Poland Jan III
Sobieski over the Ottoman Empire, that had threatened Vienna. In the spirit of the Catholic church, it was not only about evoking the classic mythology and the ancient and modern history, as to celebrate during the holidays a past that does no longer exist. The interpretation of the signs of the past was instead moved by the faith that through them, a truth of liberation would reveal itself. This was the spirit of the oratorios, of biblical subject, and of the cantatas, of profane argument.

Files:

Partitura

3.00€

Parti

2.00€

score + parts

5.00€
Copyright Edizioni Pian & Forte 2017 - AssociazioneProMusica - P.iva 09754000967 - Tutti i diritti sono riservati -
Cookie Policy
-
Privacy Policy