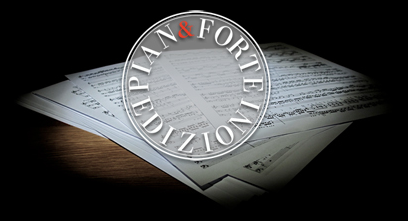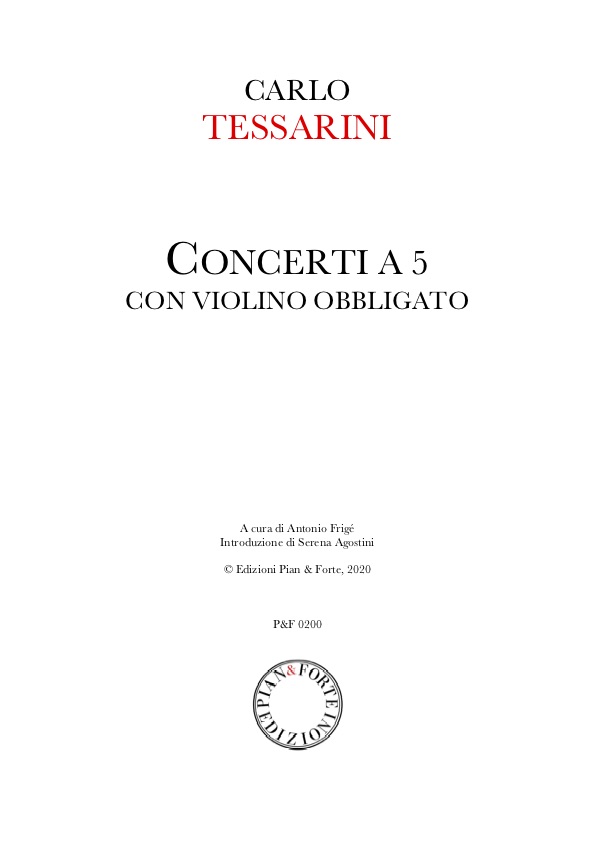 Concerti a 5 con Violino obbligato
(Instrumental music)
Bibliothèque nationale de France, département Musique, ACE7-24 (1-2)
Trascrizione a cura di Antonio Frigé
Introduzione di Serena Agostini

ISMN 979-0-705083-88-0

123 pag.

Carlo Tessarini, a musician of Rimini origin, obtained not only the applause but also the esteem of the musicians and publishers of Europe, both thanks to an intense compositional activity that he maintained until reaching old age, and to the lively historical, musical and editorial context of his time. Concertmaster, violin player and later also teacher and editor of his own compositions, Tessarini knew how to demonstrate his musical abilities in a very active manner, balancing his various commitments with the requests of the chapels, in particular that of the Cappella del Ss. Sacramento in Urbino, where he worked for several decades as a musician.
And in Urbino he prevailed on determining some updates over the years: from improvements on the management of the musicians inside the chapel, to the consolidation of the stringed instruments and the beginning of an educational activity dedicated to the violin with a gradual introduction of his students into the chapel ensemble. All this demonstrates that he was a great musician of his time, and above all, well-known in the musical scene of that time.
Still today the chronicles of his life are anything but conspicuous: nothing is known of his birth, which probably took place around 1690, much less of his death, supposed to be in 1766. The same chapel in Urbino mentions him in 1759 as one of the irrecoverable debtors, and despite the fact that he owed a large sum of money, nothing was heard from him for some time. Following the recent investigations undertaken by professors Roberto Giuliani, Gianandrea Polazzi and Paola Besutti the last documents that mention Tessarini are dated 1766, when the musician made his last appearance in Holland, and then his tracks are lost again until his death.
Files:

Partitura

15.00€

Parti

15.00€

score + parts

30.00€
Copyright Edizioni Pian & Forte 2017 - AssociazioneProMusica - P.iva 09754000967 - Tutti i diritti sono riservati -
Cookie Policy
-
Privacy Policy