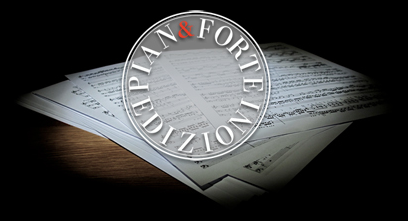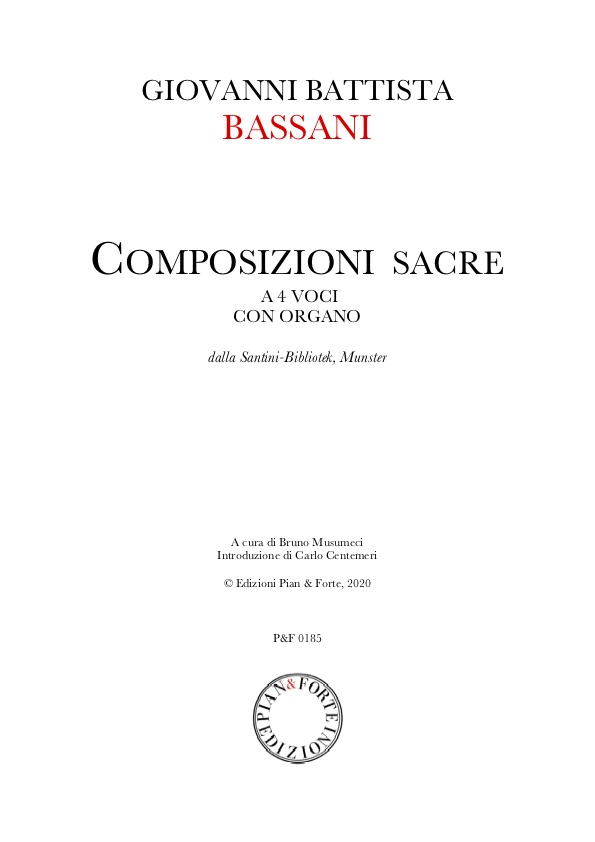 Composizioni sacre a 4 voci con organo
(Sacred vocal music)
Santini-Bibliotek, Munster (SANT Hs 355 - n.1)
Trascrizione a cura di Bruno Musumeci
Introduzione di Carlo Centemeri

ISMN 979-0-705083-72-9

188 pag.

Since his first known job (as an organist for the "Confraternita della Morte" in Ferrara, 1667), Giovanni Battista Bassani was constantly employed as a composer for liturgical music, except for a short period (between 1679 and 1685). He published a high number of Mass settings (limited, as always, to the ordinarium), but we cannot say the same thing about his settings of texts from the proprium (introitus, gradualis, tractus, offertorium etc.) and about his instrumental music thought for services: in this latter case we have already discussed elsewhere that, even if we have just a few organ pieces surviving (just two, with one possibly of another composer), much liturgical music was conveyed in his Sinfonie op. V. This does not mean that we do not have any setting of texts from the proprium: in fact, in 1710, Ferrara's cathedral asked Bassani – who was its maestro di cappella – to create a comprehensive opus including both proprium and ordinarium of every Sunday and of every feast: these works are today preserved in Ferrara's cathedral archive. This music was played on any Sunday until the end of XIX century and was his last effort before relocating in Bergamo (1712); according to latest catalogues, this was also his last composition.
The collection we're presenting here contains the settings of some liturgical texts: the source are two collections preserved in the collection of Fortunato Santini, today in Münster.
Files:

Partitura

20.00€
Copyright Edizioni Pian & Forte 2017 - AssociazioneProMusica - P.iva 09754000967 - Tutti i diritti sono riservati -
Cookie Policy
-
Privacy Policy