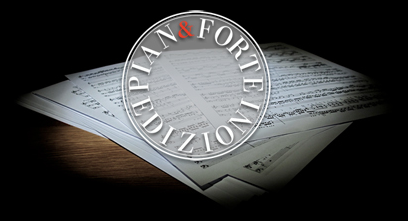 home
>
Sacred vocal music
> "Su di tromba al suon che rimbomba" Aria per Soprano, Tromba, Archi e basso continuo (dall'oratorio "La Maddalena a' piedi di Cristo) (Bononcini Giovanni )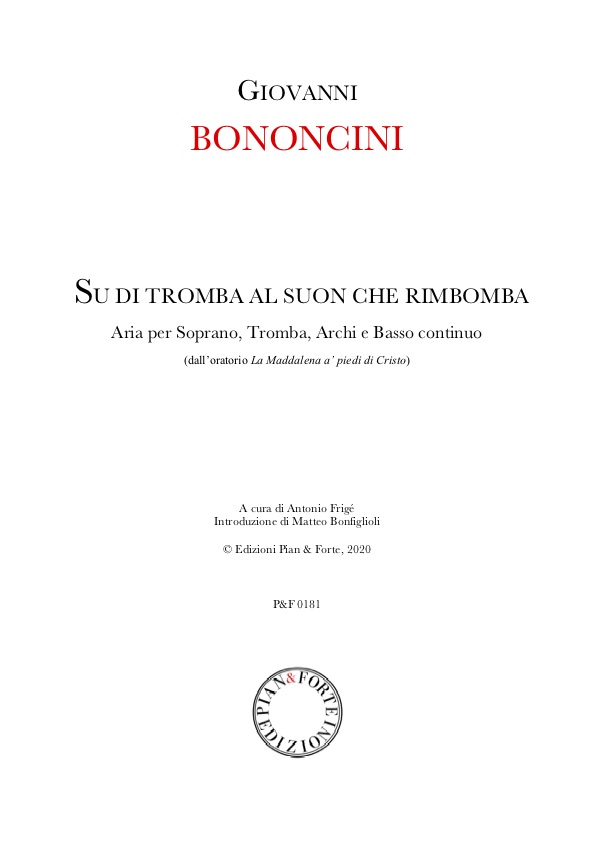 "Su di tromba al suon che rimbomba" Aria per Soprano, Tromba, Archi e basso continuo (dall'oratorio "La Maddalena a' piedi di Cristo)
(Sacred vocal music)
Biblioteca Estense universitaria – Modena
Trascrizione a cura di Antonio Frigé
Introduzione di Matteo Bonfiglioli

ISMN: 979-0-705083-70-5

15 pag.

The aria Sù di Tromba / Al suon che rimbomba belongs to the oratorio La Maddalena a' piedi di Cristo, for which Bononcini receives the commission in 1690 in Modena, where he returned to after a two-year stay, 1689 and 1690, in Milan. In the Biblioteca Estense of Modena, there is a note conserved, stating the payment of twenty "doble" for his composition. Based on a libretto by Lodovico Forni, "in two parts, for five voices with instruments", it proposes the justaxposition between the forces of good and bad, with respective representatives heavenly Amor and Christ, and earthly Amor and Fariseo. The conflict, which foresees the intervention of the trumpet to underline the ancient battle, resolves in the penitence of Maddalena. The aria, whose protagonist is heavenly Amor, accompanied by 1st and 2nd violin, viola and basso, is structured in the form of the da capo.
About the da capo, it is interesting to examine a vocal treatise that dating from 1727, written by a celebrated castrato and vocal teacher, Pier Francesco Tosi; he too, at the service of the court in Vienna as a composer. His work Opinione de' cantori antichi e moderni, o sieno osservazioni sopra il canto figurato has retrospect value, because it is connected to an art form based on the pathetic expression, that is giving way to a more virtuoso manner of singing. The da capo necessarily has to be varied: "About the da capo arias, he who does not vary and improve all that he has sung, is not a great man". Tosi explains that in the first part "simple, tasteful and few ornaments" are allowed, and that in the second part, on the contrary, it is recommended to add "a singular artwork", to show bigger ability. One must present at each new execution – as the best amongst the old singers used to do – changes that keep the listeners attention alive; we must prefer, indeed, an abundant voice, even if not of great quality, to a sterile e repetitive one.


Files:

Partitura

3.00€

Parti

2.00€

score + parts

5.00€
Copyright Edizioni Pian & Forte 2017 - AssociazioneProMusica - P.iva 09754000967 - Tutti i diritti sono riservati -
Cookie Policy
-
Privacy Policy