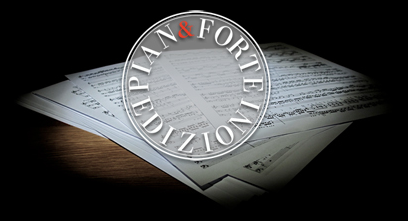 home
>
Instrumental music
> Sinfonia per Tromba, Archi e basso continuo (dall'oratorio "La Maddalena a' piedi di Cristo) (Bononcini Giovanni)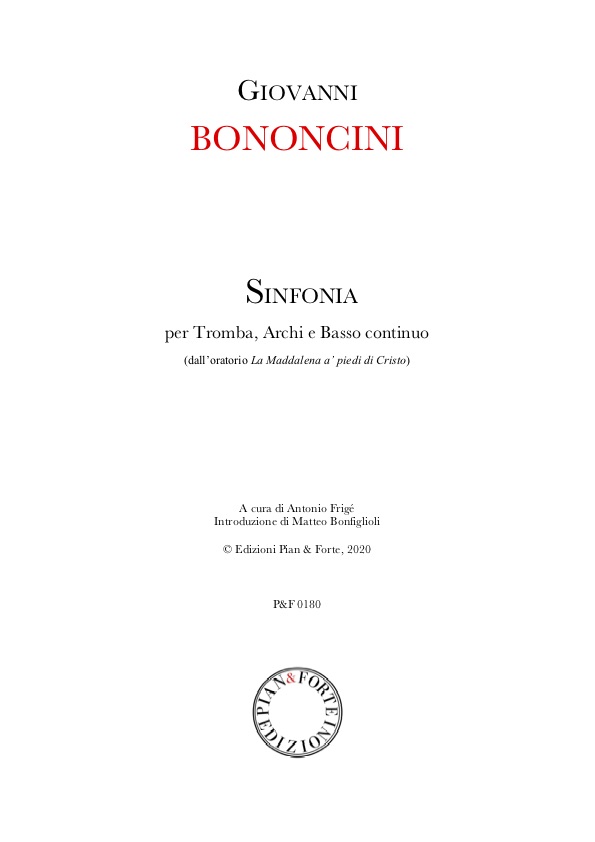 Sinfonia per Tromba, Archi e basso continuo (dall'oratorio "La Maddalena a' piedi di Cristo)
(Instrumental music)
Biblioteca Estense universitaria – Modena
Trascrizione a cura di Antonio Frigé
Introduzione di Matteo Bonfiglioli

ISMN: 979-0-705083-69-9

14 pag.

The Sinfonia present in this edition opens the oratorio La Maddalena a' piedi di Cristo, for which Bononcini receives the commission in 1690 in Modena, where he returned to after a two-year stay, 1689 and 1690, in Milan. In the Biblioteca Estense of Modena, there is a note conserved, stating the payment of twenty "doble" for his composition. Based on a libretto by Lodovico Forni, "in two parts, for five voices with instruments", it proposes the justaxposition between the forces of good and bad, with respective representatives heavenly Amor and Christ, and earthly Amor and Fariseo. The conflict, which foresees the intervention of the trumpet to underline the ancient battle, resolves in the penitence of Maddalena. The Sinfonia begins with a short, slow movement, Adagio, in which the trumpet does not play; thereafter follows a Presto, in which all of the instruments are involved. Also some cantatas (for i.e. Clori svenar mi sento or Le tenui rugiade) open with a brief instrumental prelude, in general in two parts (slow-fast). In these pieces, Bononcini uses also models that are close to the French style. In general, he trusts often in dotted rhythms, that sometimes get emphasized by inserting short pauses.
For the historically informed realization of the basso continuo one can cite a testimony offered by a source situated in the plain Bononcini time period, both regarding the date of publication (1708) and of reprint (1722). In the L'Armonico Pratico al cimbalo by Francesco Gasparini we can find a passage praising Giovanni Bononcini:
I could observe many, and various of those motives in the Cantatas of many virtuous masters, but in particular in those of Sir Giovanni Bononcini, most worthy Virtuoso of his Caesarean Majesty, in which I see no less than Oddity, Vagueness, Harmony, elaborate study, and capricious invention; that therefore with justice meets the applause of a whole World admiring his beautiful ingenuity.
Files:

Partitura

3.00€

Parti

2.00€

score + parts

5.00€
Copyright Edizioni Pian & Forte 2017 - AssociazioneProMusica - P.iva 09754000967 - Tutti i diritti sono riservati -
Cookie Policy
-
Privacy Policy