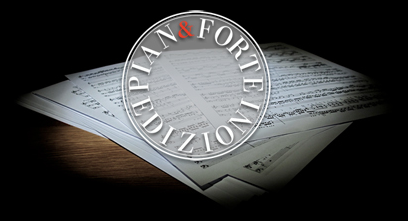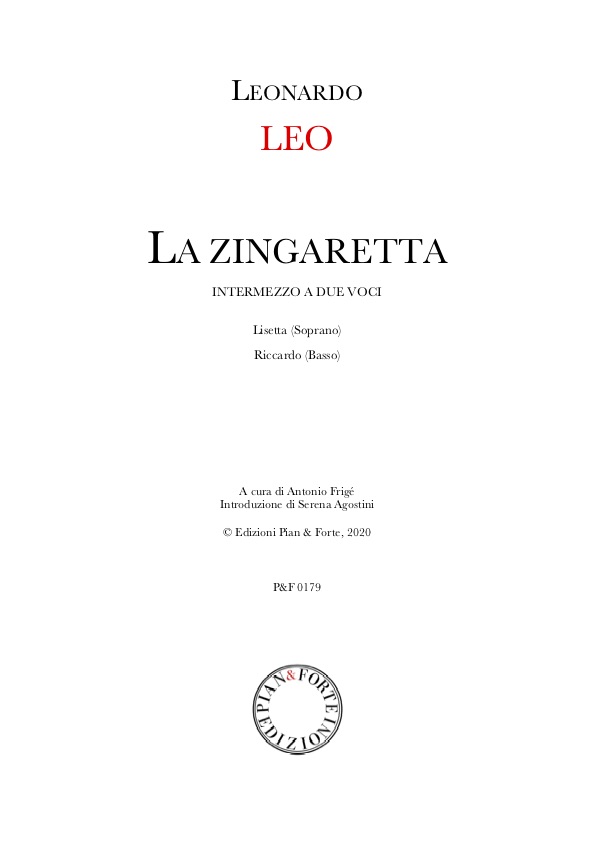 La Zingaretta - Intermezzo a due voci
(Secular vocal music)
Wrocław, Biblioteka Uniwersytecka (PL-WRu) 60549 Muz
Trascrizione a cura di Antonio Frigé
Introduzione di Serena Agostini

70 pag

ISMN 979-0-705083-67-5

"Run, fly to Naples to listen to Leo's masterpieces", so wrote Jean-Jacques Rousseau in 1764, making an invitation to fully enjoy the musical art that had made Naples very influential, and naming Leo in the first place, as musician worthy of notice in Neapolitan music.
The cultural and historical reasons that made Naples a large-scale European capital must be sought in the pre-Enlightenment school of thought which, among other things, promoted the new idea of art, withdrawn from specialised circles and introduced into a more practical and social path. Into this flourishing cultural context, Leonardo Leo was born in 1694. Originally from Brindisi, he was guided, at a very young age, to the study of music in the capital of the Kingdom, and was enrolled as a boarding student, at the Conservatorio della Pietà dei Turchini. Already in 1713 he was appointed supernumerary organist in the Royal Chapel and from here, thanks to the friendship with the Marquis Pietro Stella, he obtained contacts to be introduced at court and at the official court theatre: Teatro San Bartolomeo. The years between 1708 and 1734 are those of the viceroyalty Austrian domination, which affirms, as far as the mu- sical life concerns, the domination of Alessandro Scarlatti and of four musicians he directly or indirectly trained: Leonardo Vinci, Domenco Sarro, Francesco Durante, also mentioned by Rousseau, and Leonardo Leo. With the Austrian viceroyalty some cultural practices, concerning innovations on the use of serious opera (opera seria) and intermezzi, were consolidated. In fact, the second decade of the 1700s is characterized, by the increasing independency of the latter from the former.
In view of this emancipation, a fundamental role is acknowledged to the Teatro dei Fiorentini which, starting from the same years, began to give music performances more and more frequently, following the social interest of the time, and leave space for the comedian and dialect genre, in a bourgeois-popular setting, characteristic of the intermezzi. Of the vast musical production of don Lionardo, as he loved to sign himself, there are, not surprisingly, more than 150 works destined for liturgical service and about 60 productions that include cantatas and serenades, serious operas (opera seria), comic operas (opera buffa), theatrical feasts and intermezzi.
The intermezzi written by him have sometimes been presented indipendently: this is the case of L'impresario delle Canarie, performed in Madrid, for the wedding of Filippo di Borbone, in 1739.
The destination of La Zingaretta published here is different...

Files:

Partitura

10.00€

Parti

15.00€

score + parts

25.00€
Copyright Edizioni Pian & Forte 2017 - AssociazioneProMusica - P.iva 09754000967 - Tutti i diritti sono riservati -
Cookie Policy
-
Privacy Policy