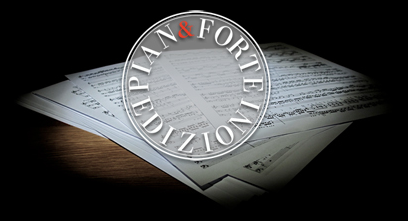 home
>
Sacred vocal music
> Salmi brevi per tutto l'anno a otto voci - Opera seconda (Bellinzani Paolo Benedetto)
Salmi brevi per tutto l'anno a otto voci - Opera seconda
(Sacred vocal music)
Museo internazionale e Biblioteca della musica di Bologna
Edizione diplomatico-interpretativa

Trascrizione a cura di Antonio Frigé
Introduzione di Stefano Rapetti

ISMN: 979-0-705083-66-8

313 pag.

Paolo Benedetto Bellinzani published his nineteen "Short Psalms for all year for eight voices with optional violins" in 1718, one year after taking priestly orders while he was chapelmaster at the cathedral of Udine, dedicating this Opus 2 (the Masses for four voices of Opus 1 were from the previous year) to several distinguished deputies of the city.
Together with the Masses and the Offertories of 1726, the Psalms were a small part of a large quantity of Bellinzani's compositions for the liturgy, at the time not published or printed.
Bellinzani was born in Mantova or Ferrara around 1690 (in 1682 according to some sources), and he worked as chapelmaster in numerous cathedrals of the Peninsula, including those in Udine, Pesaro, Ferrara (where he was part of the Accademici Risorti; he was also an academic of Bologna ad honorum, admitted outside of the usual noviciate period), Urbino and finally Recanati, where he died "paralysed on the right" in 1757.

Files:

Partitura

30.00€

Parti

10.00€

score + parts

40.00€
Copyright Edizioni Pian & Forte 2017 - AssociazioneProMusica - P.iva 09754000967 - Tutti i diritti sono riservati -
Cookie Policy
-
Privacy Policy