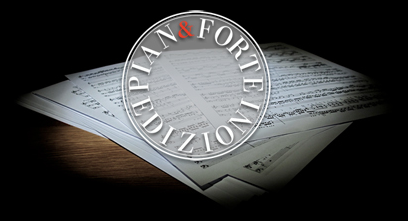 Per abbattere il mio core
(Secular vocal music)
Biblioteca del Conservatorio di musica S.Pietro a Majella - Napoli
Aria per Soprano, con tromba, archi e basso continuo "della Signora Faustina"

Trascrizione a cura di Antonio Frige

11 pag.

ISBN 978-88-98342-24-2

Alessandro Scarlatti (2nd May 1660 – 24th October 1725) is considered the founder of the Neapolitan opera. He was born in Palermo, and became famous in Rome for his operas and chamber cantatas. He spent most of his life beetween Naples, where he became Maestro di Cappella to the viceroy in february 1684, and Rome, where Cardinale Ottoboni made him his Maestro di Cappella, and procured him a similar at the Basilica di Santa Maria Maggiore in 1703. He died in Naples 1725...
Files:

partitura

2.00€

parti

3.00€

score + parts

5.00€
Copyright Edizioni Pian & Forte 2017 - AssociazioneProMusica - P.iva 09754000967 - Tutti i diritti sono riservati -
Cookie Policy
-
Privacy Policy