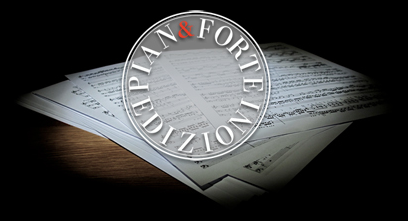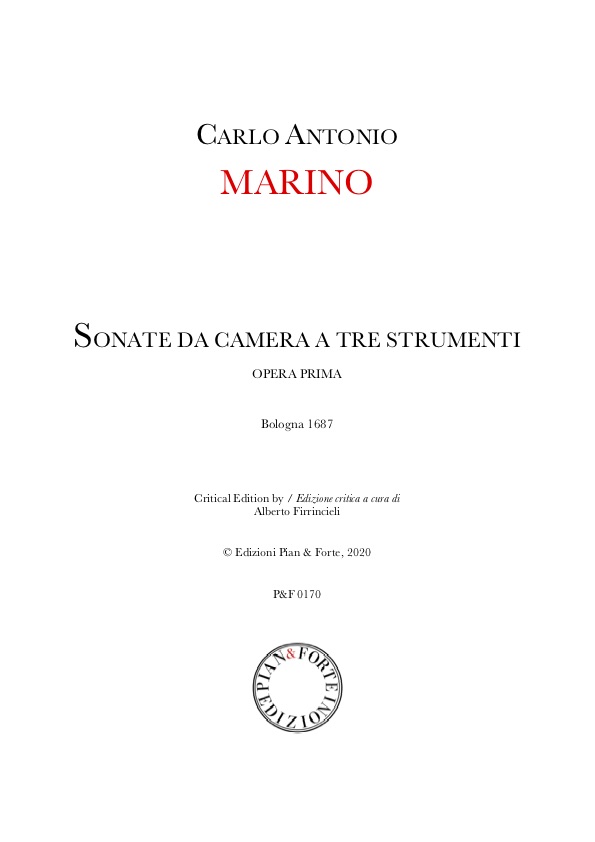 Sonate da camera a tre strumenti Opera Prima
(Instrumental music)
LONDON, British Library BOLOGNA, Civico Museo Bibliografico Musicale MODENA, Biblioteca Estense
Critical Edition by Alberto Firrincieli

ISMN 979-0-705083-57-9

72 Pag.

Italian music of the seventeenth century forms a multi-colored panorama. Among musical revolutions in the first half of the century we observe the birth of the opera in Florence, a new sensitivity towards monody and its affections represented by Le Nuove Musiche (The New Music) by G. Caccini and the overturning of the importance text/music, known as Second Practice; no less significant is the invention of the unmistakable idiom of Frescobaldi's Toccatas for keyboard; in the second half of the century composers such as Corelli, Torelli, and then Vivaldi and Tartini will provide an essential contribution to the development of concertos and sonatas. Alongside musicians who brought this strong character to the Seicento, we find a dense array of composers, defined as "minor" by tradition and often excluded from historical study for reasons of brevity, but who provided fertile soil for the flowering of composers since defined as "the greats".
The present contribution presents a first attempt to study works by Carlo Antonio Marino. Currently we do not have modern editions of his music, only some ancient prints released during the composer's lifetime and a set of manuscripts – in both cases generally unique exemplars. These documents are preserved not only in Italian cities such as Bergamo, Bologna, Modena and Venice, but also Vienna, Brussels, Zurich, Paris, London, Manchester, The Hague and elsewhere. This testifies to a partial diffusion of his music into European countries, sometimes in the form of unauthorized copies.

Files:

Partitura

7.00€

Parti

3.00€

score + parts

10.00€
Copyright Edizioni Pian & Forte 2017 - AssociazioneProMusica - P.iva 09754000967 - Tutti i diritti sono riservati -
Cookie Policy
-
Privacy Policy