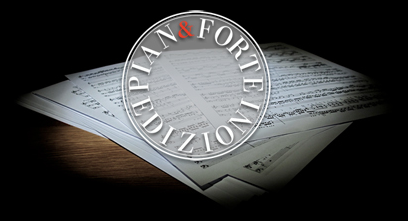 De la tromba a' fieri carmi
(Secular vocal music)
Österreichische Nationalbibliothek, Vienna (Mus.Hs.16288/1-2)
Trascrizione a cura di Antonio Frigé
Introduzione di Matteo Bonfiglioli

ISMN: 979-0-705083-54-5

20 Pag.

The aria De la tromba a fieri carmi belongs to l'Euleo festeggiante, "Serenata / nella sera del Felicissimo Giorno Natalizio / Della Sacra Real Maestà / di / Giuseppe I / Re de' Romani"14, performed in 1699. The performance saw the collaboration of the scenographer Lodovico Ottavio Burnacini, the master of dance Simon Pietro della Motta and the intervention of Johann Josef Hoffer for the dance music. The tale of the events of Alessandro leads to celebrate Giuseppe I, whose fame – according to the libretto – surpassed that of the old condottiero and who would have followed in 1705 his father Leopoldo I.
For the historically informed realization of the basso continuo one can cite a testimony offered by a source situated in the plain Bononcini time period, both regarding the date of publication (1708) and of reprint (1722). In the L'Armonico Pratico al cimbalo by Francesco Gasparini we can find a passage praising Giovanni Bononcini:
I could observe many, and various of those motives in the Cantatas of many virtuous masters, but in particular in those of Sir Giovanni Bononcini, most worthy Virtuoso of his Caesarean Majesty, in which I see no less than Oddity, Vagueness, Harmony, elaborate study, and capricious invention; that therefore with justice meets the applause of a whole World admiring his beautiful ingenuity.

Files:

Partitura

5.00€

2.00€

score + parts

7.00€
Copyright Edizioni Pian & Forte 2017 - AssociazioneProMusica - P.iva 09754000967 - Tutti i diritti sono riservati -
Cookie Policy
-
Privacy Policy