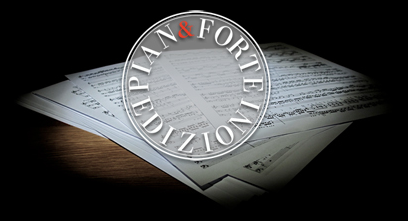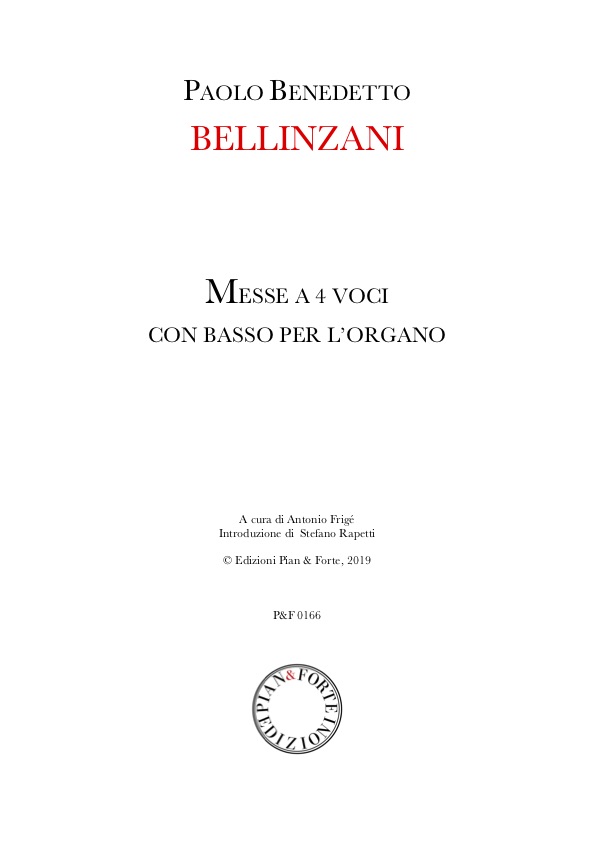 Messe a 4 Voci con basso per l'organo
(Sacred vocal music)
Museo internazionale e Biblioteca della musica di Bologna
Trascrizione a cura di Antonio Frigé
Introduzione di Stefano Rapetti

ISMN: 979-0-705083-52-1

118 Pagine

When in 1717 twenty-seven-year-old Paolo Benedetto Bellinzani submits for print the four masses opus 1 at Silvani in Bologna, he feels the need to make them precede, in addition to the usual captatio benevolentiae (in the form of a dedication to the Ill.mo et Rev.mo Patriarch of Aquileia, Dionisio Delfino), also by an excusatio, addressed "to virtuosos of music": here, Our shows to be sorry for not having been able to serve them to the need, because of the "tightness of the time in which he had leaned to compose the present work ", and hopes however to console them and compensate them with the "diversity of extravagant commitments" contained especially in the fourth mass, canonical.
The following year, after being ordained a priest in Udine - where he already held the office of Praefectus Musicae of the College of S. Maria Maggiore - Bellinzani composes the 8-part Psalms with violin with consent, and in 1720 (but according to some sources in 1728) the sonatas for flute; thanks to the success of these first publications, he gains notoriety and prestige, so much so that his works appear in the repertoire of the Basilica of St. Mark in Venice and he is awarded the title of "Philharmonic Academic of Bologna" ad honorem, without the usual novitiate.
During the following career, which led him to establish himself as Maestro di Cappella, in Pesaro, Urbino, Fano, Orvieto and finally Recanati, he tirelessly produces both sacred music (such as the Offertorii for two voices of 1726 and many other liturgical pieces, mostly still unpublished) and profane (Chamber duets of 1726, Madrigali of 1733, Oratorios "Ester" and "Abigaille").
The four masses constituting this First Opus already present at the core the distinctive traits of the Bellinzanian style, starting from the care in the treatment of the voices, so that they can always flow with ease, without being forced into extreme registers (for these masses in particular it is legitimate to suppose that the parts of soprano and contralto were thought for white voices, given the limits set to the extension) although without appearing banal or clumsy for this; This attention is well placed in the author's desire to pursue a golden proportion given by the balance between contrasting attitudes, which he identifies as "studied simplicity" and "dissonant concord", in which the use of flourishes and dissonances (which sometimes he was reproached as excessive by contemporaries) does not overshadow the clearness of the melodic lines and "the majesty and the decorum of the words that are pronounced": the models by A. Corelli and B. Marcello, which are explicitly stated, take the form of a musical aesthetic in which "beyond sense, reason must have its proper place" , and by distancing itself from any artificial fashion, one can move the affections of those who have a soul minded to the "sweet violence" of harmony .
Files:

Partitura

15.00€
Copyright Edizioni Pian & Forte 2017 - AssociazioneProMusica - P.iva 09754000967 - Tutti i diritti sono riservati -
Cookie Policy
-
Privacy Policy