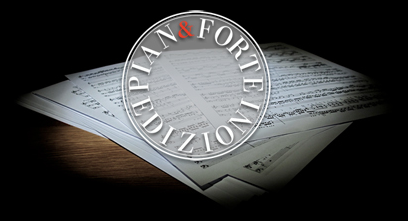 home
>
Instrumental music
> Sinfonie a due, e tre strumenti col basso continuo per l'organo - Opera quinta (Bassani Giovanni Battista)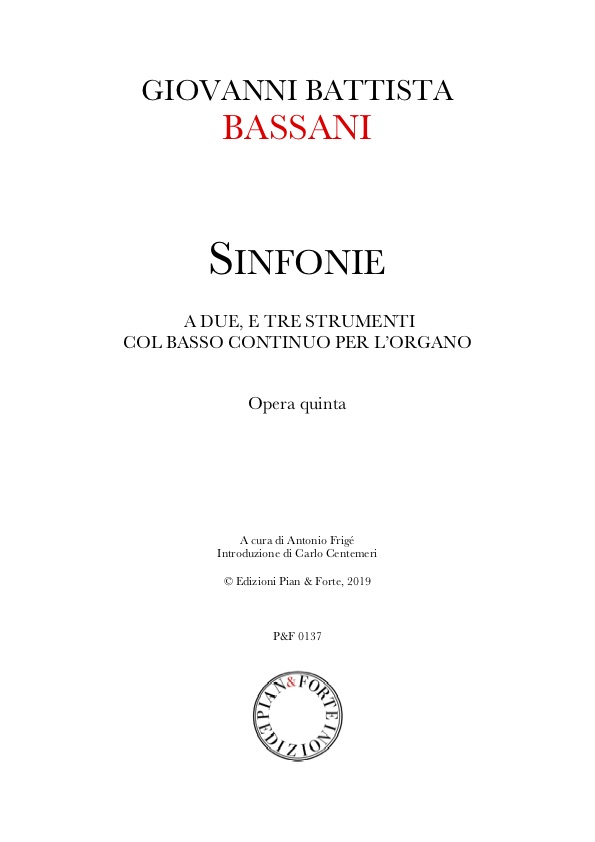 Sinfonie a due, e tre strumenti col basso continuo per l'organo - Opera quinta
(Instrumental music)
Museo internazionale e Biblioteca della musica di Bologna
Trascrizione a cura di Antonio Frigé
Introduzione di Carlo Centemeri

139 pagine

ISMN 979-0-705083-51-4

Bassani – Sinfonie op V
Alongside Torelli and Corelli, Giovanni Battista Bassani was undoubtedly one of the representative composers of Bolognese instrumental music at the end of the 17th century. Bassani's instrumental output consists of just 24 sonatas, divided between two collections (Op.1 and Op.5), and a few other works published as contributions to anthologies; frankly, not much in comparison to his 30 printed collections of vocal works (Masses, motets, cantatas, psalms etc.), to which operas, oratorios and many unpublished liturgical works could still be added. This discrepancy must not allow us to underestimate Bassani's importance, since his Sinfonie Op.5 were a real hit of the time. This is evident from the four reprints (Bologna 1683 and 1688, Antwerp 1691, Amsterdam 1708) and the high number of extant handwritten copies spread all over the world
The Sinfonie a due e tre istromenti Op.5 have an explicit ambiguity in their name because, while the front page bears the title 'sinfonia', in the table of contents the term 'sonata' is used instead – thus indicating a musical genre that was still not completely defined. On the other hand, reading between the lines, one can assume that these works were destined for use in the church, due to their strong coherence with the topoi of sacred instrumental music (see, for example, Frescobaldi's organ masses): the canzona (at the Epistle), the ricercare (often Cromatico, after the Creed), the solemn toccata before the Mass, the 'durezze et ligature' toccata (for the Elevation) and some dance movements suitable for Communion or the end of the service. The inscription 'a due e tre istromenti' (which translates literally as 'for two or three instruments') refers to the practice for sonatas to contain a cello playing either an independent part (obbligato) or just an ornamentation on the organ line, that could be omitted if necessary (a beneplacito).
Nothing is known about the development of this collection, but it is evident that the final result was highly sought after, representing a perfect synthesis of Bassani's skills as a composer, violinist and organist; possibly it wasn't a coincidence that its first publication was in 1683, when Bassani was Principe (chairman) of Bologna's Accademia dei filarmonici.
Files:

Partitura

15.00€

Parti

15.00€

score + parts

30.00€
Copyright Edizioni Pian & Forte 2017 - AssociazioneProMusica - P.iva 09754000967 - Tutti i diritti sono riservati -
Cookie Policy
-
Privacy Policy