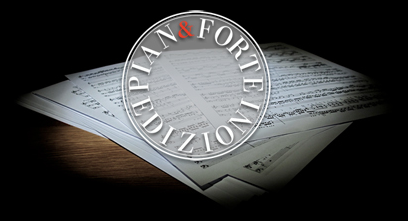 home
>
Instrumental music
> XII Concerti a Violino principale, Violino primo e secondo, Alto viola, Violoncello e Organo - Opera I (D'Alay Mauro)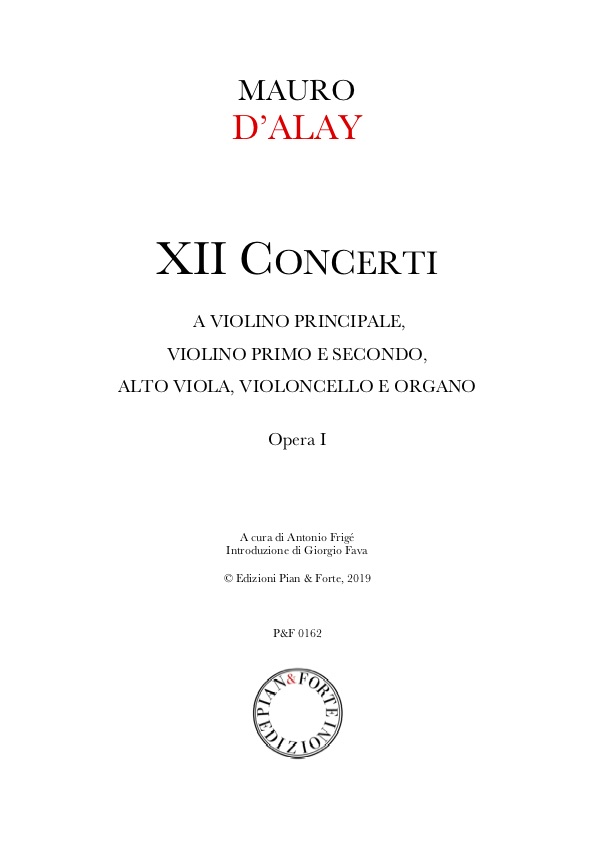 XII Concerti a Violino principale, Violino primo e secondo, Alto viola, Violoncello e Organo - Opera I
(Instrumental music)
Biblioteca del Conservatorio B.Marcello - Venezia
A cura di Antonio Frigé
Introduzione di Giorgio Fava

273 Pagine

ISMN 979-0-705083-48-4

Mauro D'Alay, known as "Maurini" or "Maurino", was born in Parma at the end of the 17th century into a family of musicians who went by the name D'Allaj or dall'Aj, phonetic abbreviations of a common Parmesan last name, Dall'Aglio.
A prominent violinist in 18th century Europe, D'Alay, after a period of activity in his home town working in the Cathedral's music chapel as well as the Church of the Steccata, embarked on numerous journeys that took him to Madrid, Venice, London and Munich. After 1714 his travels often brought him to Spain when Elisabetta Farnese moved from the royal court at Parma to the royal court of Madrid after her marriage to the Bourbon monarch King Philip V.
As royal chamber musician, Mauro enjoyed influence and wealth, and owned a prestigious painting collection that included works by Titian, Bassano, Dürer, Rubens and Velázquez. He also had in his possession a splendid Antonio Stradivarius violin (an instrument he played his entire life)--the 1718 "San Lorenzo"--an instrument known for its enigmatic Latin motto "GLORIA ET DIVITIAE IN DOMO EIUS" ("GLORY AND FORTUNE ARE IN HIS HOUSE") inscribed on the ribs of the instrument by the Cremonese master.
These riches along with furnishings and savings were bequeathed by D'Alay to the Basilica of the Steccata, or rather the Constantine Order of St. George, the order that had knighted him before his death on the 11th of February 1757 in Parma.
His association with yet another renowned woman of the time, the mezzosoprano Faustina Bordoni whom he had met in 1724 in Parma, led him first to the Venice carnival that same year, and then to London in 1727, the year in which these 12 concertos for violin were published in Amsterdam by Le Cene.
Two more concerto manuscripts can be traced to his sojourn in Venice, transcribed in the well-known collection attributed to Annamaria, a young musician at the Ospedale della Pietà and favorite violinist of Antonio Vivaldi. Although it is likely D'Alay and Vivaldi met, there is no record of this compelling event; the shared esteem between the two musicians is however evident in their music, which is filled with a common musical vocabulary. In playing these concertos from Op.I, echoes of Vivaldian invention and stylistic elements resound in the ritornelli and solos. Also interesting are some of the long, unaccompanied solos that call to mind another Venetian violinist, Giorgio Gentili.
Files:

Partitura

28.00€

Parti

32.00€

score + parts

60.00€
Copyright Edizioni Pian & Forte 2017 - AssociazioneProMusica - P.iva 09754000967 - Tutti i diritti sono riservati -
Cookie Policy
-
Privacy Policy