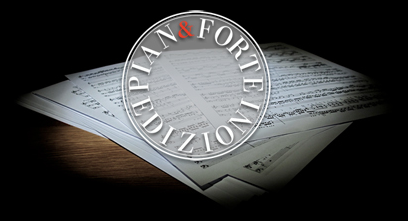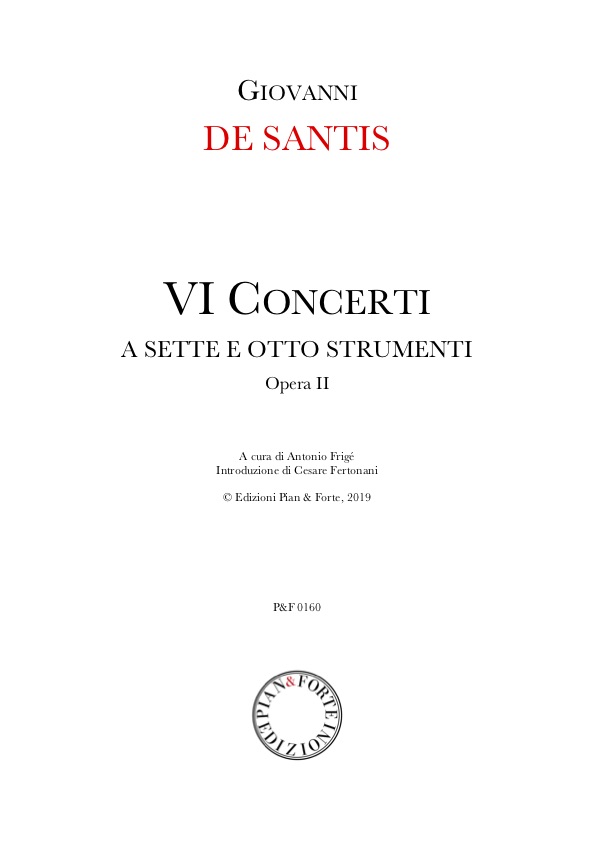 VI Concerti a sette e otto strumenti - Opera II
(Instrumental music)
Universitetsbibliotek, Uppsala (Leufsta Mus. tr. 59)
Trascrizione a cura di Antonio Frigé
Introduzione di Cesare Fertonani

ISMN 979-0-705083-46-0

157 Pagine

Almost nothing is known nowadays of Giovanni De Santis. From the title pages of his instrumental works published in Venice and Amsterdam between ca. 1730 and ca. 1735 we know that he was a Neapolitan («napolitano») violinist and composer. As is well known, the label napolitano means that he was not necessarily born, but that he was trained in Naples or that he was a subject of the Kingdom of Naples. The only information about De Santis available can be found in some eighteenth century encyclopedic dictionaries such as Marpurg and Gerber. He was the author of four works of instrumental music. The twelveDivertimenti a violino col basso op. I were published in Venice around 1730, Gerhard Fredrik Witvogel then printed four more works in Amsterdam without the author's consent: VI Sonate da camera a violino e violone o cimbalo op. I (1732), Sei Concerti a sette e otto stromenti op. II (1733), XII Divertimenti a violino col basso op. III (ca. 1735, a re-edition of the italian op. I , already published in Venice), and XII Sonate a flauto traversiere o violino e basso continuo o violoncello op. IV (ca. 1735). The Sei Concerti a sette e otto stromenti op. II (1733) were published around 1732 in Amsterdam by Gerhard Fredrik Witvogel.
Files:

Partitura

18.00€

Parti

22.00€

score + parts

40.00€
Copyright Edizioni Pian & Forte 2017 - AssociazioneProMusica - P.iva 09754000967 - Tutti i diritti sono riservati -
Cookie Policy
-
Privacy Policy