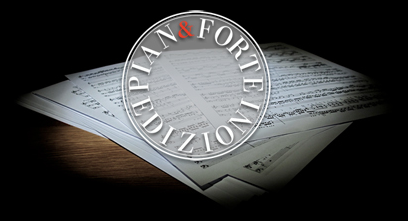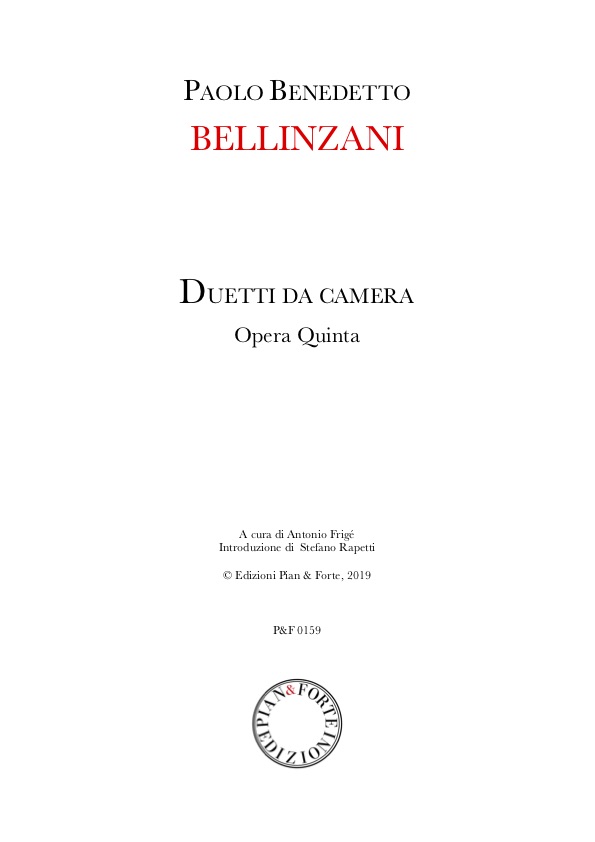 Duetti da Camera Opera quinta
(Secular vocal music)
Museo internazionale e Biblioteca della musica di Bologna
Trascrizione a cura di Antonio Frigé
Introduzione di Stefano Rapetti

185 pagine

ISMN: 979-0-705083-47-7

Among the vocal works of Bellinzani, the "Duetti da camera" op. 5, edited in Pesaro by the printing house Gavelli in 1726 and dedicated to prince cardinal Cornelio Bentivoglio of Aragona, deserve particular attention.
While the vocal works of B. are almost always directed to liturgy (this is not surprising, given that he, ordained as a priest in 1717, worked most of his time as master of chapel for various cathedrals, among them Udine, Pesaro, Ferrara, Orvieto and Recanati) and the two oratories composed by him, Ester and Abigaille, are also based upon biblical subjects, these "Duetti da camera" are, on the contrary, amorous dialogs between character couples of the "Pastor Fido" of Guariniano (Silvio and Dorinda, Mirtillo and Ergasto), of the Roman mythology (Didone and Enea, Tarquinio and Lucrezia, Marcantonio and Cleopatra) and of the Greek myths narrated by Ovidio and Apuleio (Amore and Psiche, Andromeda and Perseo, Dafne and Apollo, etc.).
For this duets – another particularity – Bellinzani uses a formal structure of a generous breath, transforming them actually into cantatas for two soloist voices, after a scheme that provides the succession of: Aria for two, recitativo and aria of the first character, recitativo and aria of the second character, recitativo for two, final aria for two, what distinguishes them from similar works of the same time (Bononcini, Steffani, Durante, Händel), which are formally more concise.
Files:

Partitura

18.00€
Copyright Edizioni Pian & Forte 2017 - AssociazioneProMusica - P.iva 09754000967 - Tutti i diritti sono riservati -
Cookie Policy
-
Privacy Policy