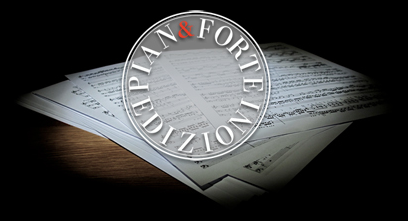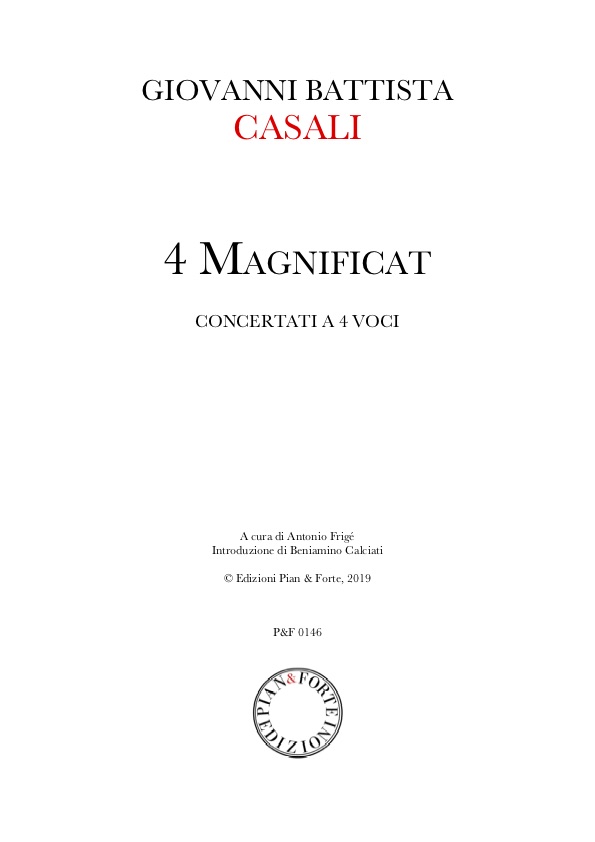 4 Magnificat concertati a 4 voci
(Sacred vocal music)
Biblioteca nazionale centrale - Roma - IT-RM0267
Trascrizione a cura di Antonio Frigé
Introduzione di Beniamino Calciati

39 pagine

ISMN 979-0-705083-35-4

Giovanni Battista Casali, born in 1715 in Rome, was admitted to the Accademia Filarmonica di Bologna in 1740. Designated assistant to Girolamo Chiti, choirmaster of the Chiesa Romano di San Giovanni in Laterano, he became his successor in 17591. He was a member of the Congregazione dei musici di Santa Cecilia in Rome, and the Guardiano della sezione dei maestri Compositori, and from 1754 until his death he was also choirmaster at the Chiesa di Santa Maria in Vallicella. He died in 1792.
His Neapolitan-style works, the interludes and dramas for music, are a corollary to his numerous psalms, cantatas, masses and other compositions, based on the proprium missae, where the Roman style predominates instead. An ideal stylistic review was made by Siegfried Gmeinwieser, who also studied the predecessor of San Giovanni in Laterano in depth.
The following historical-critical judgement paints Casali as appreciable and very attached to the Palestrinian tradition (as it was intended in the nineteenth century and the first half of the twentieth century): in fact he was mentioned, among others, by the writer Charles Burney (who assisted in the oratorio Abigail, considering him as being neither innovative nor ancient), by the Belgian musicologist François-Joseph Fétis (who considered him to be lacking in inventiveness, but of a very pure style), by the abbot Giuseppe Bertini (who reputed him as "a worthy chapel master...of a lively and clear style"), and by French musician and scholar Albert Lavignac (who, assimilating him to others, qualified him a possessor of competence and delicate artistic sense, however would not be minimally advanced with respect to the Palestrinian style).
In the didactic aspect, it is necessary to underline that Casali was not only the Master of different composers, among which the name of André Gretry (who however, had little musical consideration) stands out, but he also held the position of examiner for admissions to the aforementioned Congregazione dei musici di Santa Cecilia. In this role, he became protagonist of a long controversy also involving Luigi Antonio Sabbatini and Padre Martini, with whom Casali had frequent correspondence (in 1774, for example, he complained about the decadence of the Academy and of contemporary music manifestations). The detailed description of this controversy, which saw Casali reject the admission of a candidate due to a wrong answer in the fugue subject in the exam, was made by Èlodie Oriol, who shed new light on the dynamics of professionalisation and the protection games within the Roman milieu of the time, on Casali's relations with musical and ecclesiastical contemporaneity and on personal and musical aspects that were not always flattering.

Files:

Partitura

7.00€
Copyright Edizioni Pian & Forte 2017 - AssociazioneProMusica - P.iva 09754000967 - Tutti i diritti sono riservati -
Cookie Policy
-
Privacy Policy