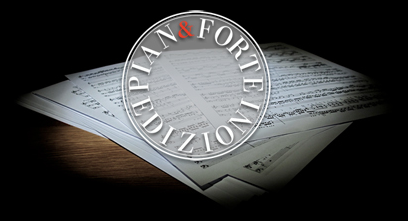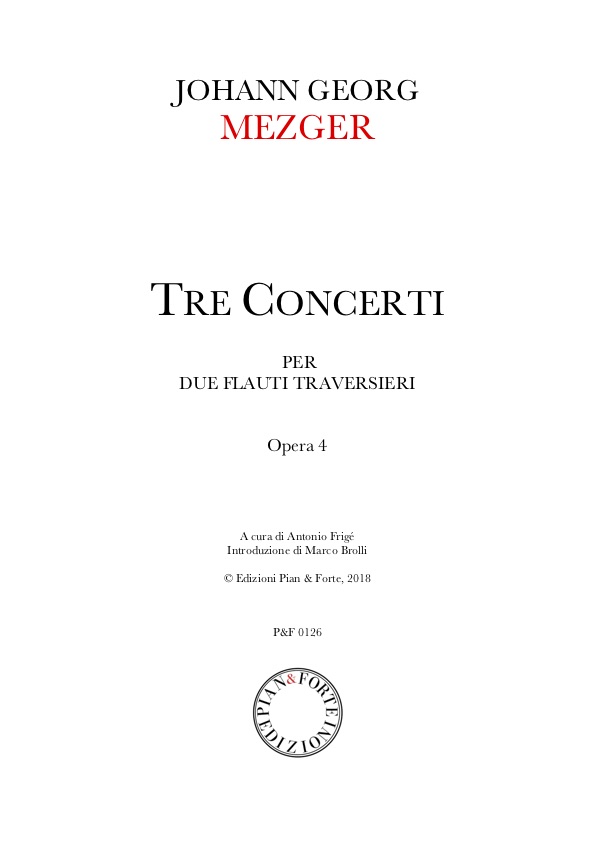 Tre Concerti per due flauti traversieri - Opera 4
(Instrumental music)
Det Kongelige Bibliotek - Copenhagen
Trascrizione a cura di Antonio Frigé
Introduzione di Marco Brolli

198 pagine

ISMN 979-0-705083-28-6

The life of the flutist and composer Johann Georg Me(t)zger (Philppsburg, 1746 - Monaco di Baviera, 1793) is poorly known. He studied music (flute in particular) at the Jesuit school in Mannheim, since he was orphan of one of the parents there. Later, he became a student of the famous flutist Johann Baptist Wendling by order of the Bavarian Prince Karl Theodor. He became assistant in 1760 and court musician at the Mannheim Court Chapel from 1765. When the court was moved in 1778, Mezger became part of the Munich Musical Chapel. Mezger's music production is essentially dedicated to the flute and consists of concertos for solo flute or two flutes and string orchestra and various chamber music: a sonata for flute and thorough bass, duets for two flutes, trios for two flutes and bass (or flute, violin and bass) and quartets for flutes and strings.
The Concertos op. 4 are a collection of three concertos for two flutes, strings and two horns ad libitum published in Berlin by J.J. Hummel in 1784. The musical script of the solo parts, sometimes parallel and sometimes dialogical, is typical of the "sinfonie concertanti" of the classical period. It is worth mentioning that among them is one of Domenico Cimarosa of 1793 with the same instruments and the addition of two oboes. The presence of wind instruments, quite common in Mezger's concertos but not obligatory in this case, highlights the influence of the "Mannheim school", namely that group of musicians and composers from the most prestigious court orchestra of that time. The best composers used to dedicate their works to the musicians of that court orchestra such as the Stamitz family, F. X. Richter, Chr. Cannabich, I. Holzbauer, A. Filtz. Johann Baptist Wendling, Mezger's mentor, was the first flutist of that orchestra from 1752 and good friend of W.A. Mozart, who was in Mannheim for the period 1777-1778.
Files:

Partitura

18.00€

Parti

22.00€

score + parts

40.00€
Copyright Edizioni Pian & Forte 2017 - AssociazioneProMusica - P.iva 09754000967 - Tutti i diritti sono riservati -
Cookie Policy
-
Privacy Policy