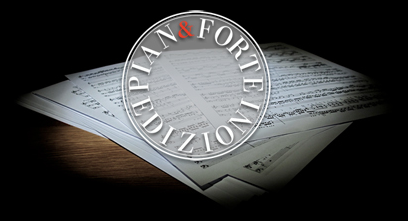 home
>
Instrumental music
> Six Quartettos for german flute, violin, tenor and violoncello - Opera 8 (Weideman Carl Friederich)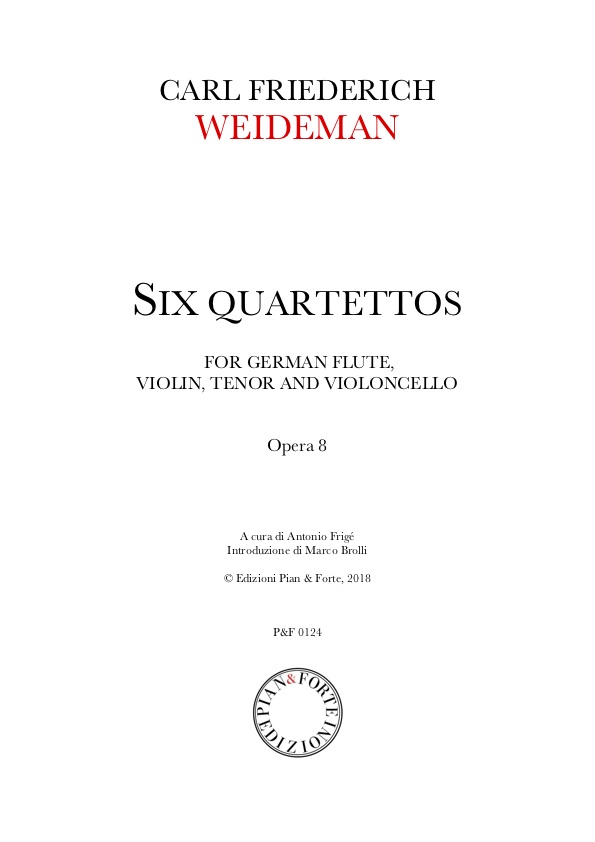 Six Quartettos for german flute, violin, tenor and violoncello - Opera 8
(Instrumental music)
University of Western Ontario, Toronto
Trascrizione a cura di Antonio Frigé
Introduzione di Marco Brolli

ISMN 979-0-705083-26-2

114 pagine

Carl Friedrich Weideman (Germany, early 18th century – London, 1782) was a German flutist and composer who spent most of his career in England. The exact date of his arrival on English soil is unknown, but it is certain that he took part in the performance of G. F. Handel's opera Tamerlano at London's Haymarket Theatre in the spring of 1725. By the time J. J. Quantz visited England in 1727, Weideman was already a respected flute virtuoso in the capital. He is also remembered as the co-founder of an institution for assistance to impoverished musicians and their families that would subsequently become the Royal Society of Musicians of Great Britain, and which helped many figures in the world of music at the time, including Handel. Weideman's activity was rather full and varied: he organized benefit concerts, composed minuets for court ballets, was a highly sought-after flutist, and in 1778 became a member of the Royal Band. Between 1743 and 1745, William Hogarth painted a series of six canvases called Marriage A-la-Mode; in the fourth painting, titled The Toilette, a flutist is depicted: it appears this flutist is none other than our Weideman.
The Six Quartets, Op. 8 (London, Welcker, 1773) belong to the tradition of flute quartets (flute, violin, viola and cello) that begins as far back as G. P. Telemann (1752) and continues throughout the 18th and part of the 19th centuries, mainly in the hands of Classical period composers, even very famous ones such as J. C. Bach, L. Boccherini, F. J. Haydn and W. A. Mozart. Each of Weideman's quartets is structured in three movements and often ends with an Allegretto, in the galant style and not at all virtuosic. The distribution of the parts is conceived such that the flute, violin and viola are given equal importance, frequently exchanging the thematic material, while the fourth voice (indicated as "violoncello" in the frontispiece) has a merely accompanimental function. It still features figured bass, which we also find in Haydn, demonstrating that the practice of continuo (cello and harpsichord/fortepiano) is present even at the peak of the Classical period, not only in sacred music but also for certain chamber music productions. I would also like to point out one more interesting detail.
At several points of the musical text the sign "__ tr" appears, which indicates to briefly hold the written note before beginning the trill. When preceded by a lower appoggiatura, it indicates a slow inverted turn elided with a trill. The symbols used are very similar to those found in the explanatory table of embellishments of the Treatise of Good Taste in the Art of Musick by F. Geminiani (London, 1749).
Files:

Partitura

12.00€

Parti

15.00€

score + parts

27.00€
Copyright Edizioni Pian & Forte 2017 - AssociazioneProMusica - P.iva 09754000967 - Tutti i diritti sono riservati -
Cookie Policy
-
Privacy Policy