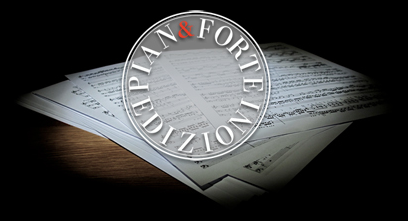 home
>
Instrumental music
> Six Concertos in seven parts for one or two german flutes - Opera seconda (Weideman Carl Friederich)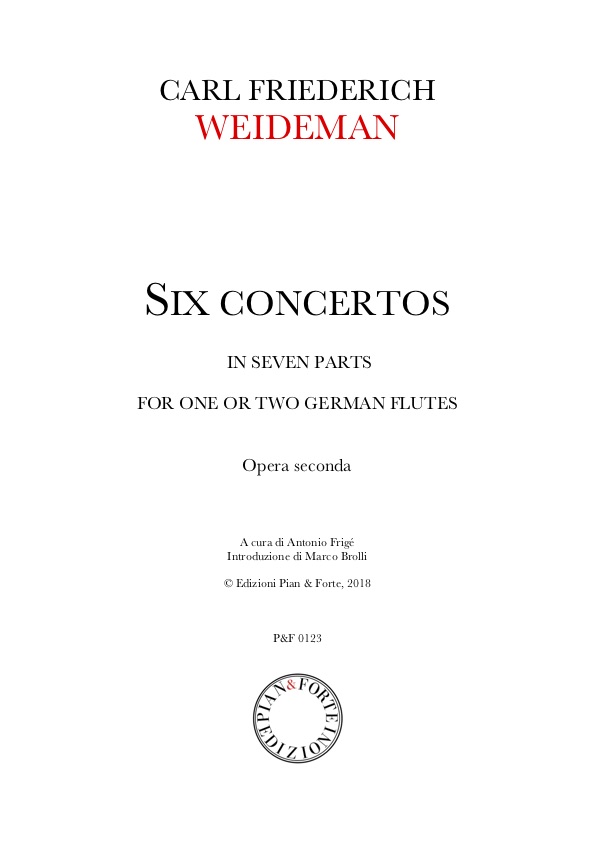 Six Concertos in seven parts for one or two german flutes - Opera seconda
(Instrumental music)
University of Western Ontario, Toronto
Trascrizione a cura di Antonio Frigé
Introduzione di Marco Brolli

ISMN 979-0-705083-25-9

217 pagine

Carl Friedrich Weideman (Germany, early 18th century – London, 1782) was a German flutist and composer who spent most of his career in England. The exact date of his arrival on English soil is unknown, but it is certain that he took part in the performance of G. F. Handel's opera Tamerlano at London's Haymarket Theatre in the spring of 1725. By the time J. J. Quantz visited England in 1727, Weideman was already a respected flute virtuoso in the capital. He is also remembered as the co-founder of an institution for assistance to impoverished musicians and their families that would subsequently become the Royal Society of Musicians of Great Britain, and which helped many figures in the world of music at the time, including Handel. Weideman's activity was rather full and varied: he organized benefit concerts, composed minuets for court ballets, was a highly sought-after flutist, and in 1778 became a member of the Royal Band. Between 1743 and 1745, William Hogarth painted a series of six canvases called Marriage A-la-Mode; in the fourth painting, titled The Toilette, a flutist is depicted: it appears this flutist is none other than our Weideman.
The frontispiece of the Six Concertos, Op. 2 published here reads "Six Concertos in seven parts for One and Two German Flutes, two Violins, a Tenor, with a Thorough Bass for the Violoncello and Harpischord [...]", published by the same author, but printed and sold by John Walsh, London, around 1746. It is a collection of six concertos, three for flute and strings and three for two flutes and strings, which alternate between a solo instrumental concerto style and that of a concerto grosso. Published not long after Handel's twelve Concerti Grossi, Op. 6 (1739-1741), the style of Weideman's pieces unquestionably recalls the aforementioned works of Handel, which in turn descend from the tradition of Corelli and which will influence other foreign composers residing in England grappling with the same genre, such as Geminiani and Barsanti. Notwithstanding Handel's influence, Weideman's six concertos are not at all limited to pure mimicry, instead revealing distinctive traits typical of the generation bridging the late Baroque and pre-Classical periods.

Files:

Partitura

22.00€

Parti

23.00€

score + parts

45.00€
Copyright Edizioni Pian & Forte 2017 - AssociazioneProMusica - P.iva 09754000967 - Tutti i diritti sono riservati -
Cookie Policy
-
Privacy Policy