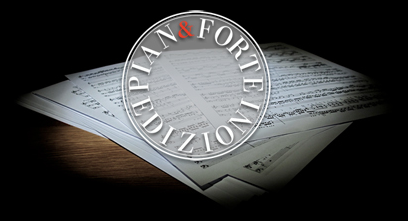 home
>
Secular vocal music
> Agitato è il mio pensiero - aria dall'opera "Semiramide in Ascalona" con Soprano, tromba, 2 violini, viola e basso (Aldrovandini Giuseppe)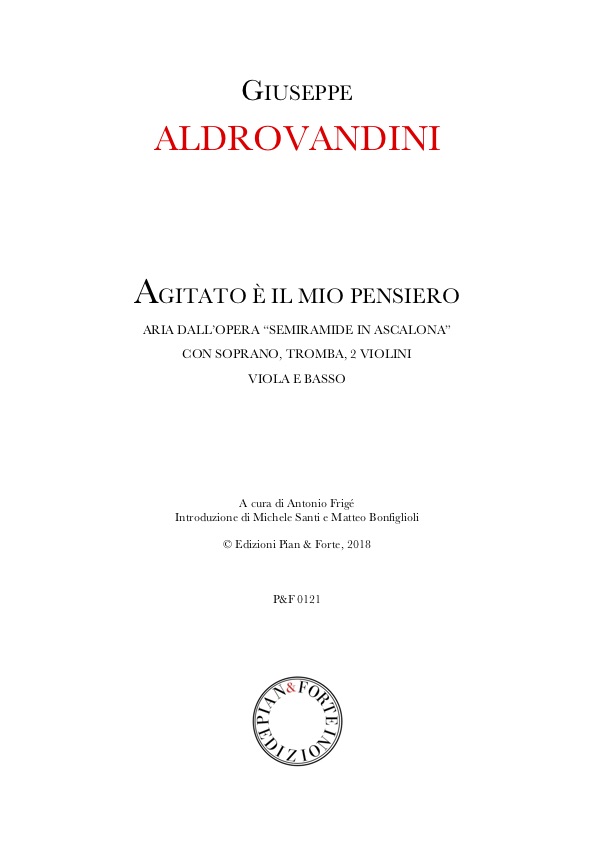 Agitato è il mio pensiero - aria dall'opera "Semiramide in Ascalona" con Soprano, tromba, 2 violini, viola e basso
(Secular vocal music)
Biblioteca del Conservatorio di musica S. Pietro a Majella – Napoli (Rari 6.6.15)
Trascrizione a cura di Antonio Frigé
Introduzione di Michele Santi e Matteo Bonfiglioli

ISMN 979-0-705083-23-1

11 pagine

ALDROVANDINI Giuseppe Antonio Vincenzo was born in Bologna in 1671; he died on Feb 9th, 1707, drowning in the Navile canal that crosses the city.
A pupil of Giacomo Antonio Perti, he had been a member of the Accademia Filarmonica since 1695: in 1702 he was elected "principe" (i.e. president) of the same Accademia. In the same he became honorary maestro di cappella for the Duke of Mantua; in 1706 he became also music director at the Accademia di Santo Spirito in Ferrara.
Since 1691, he had been active as an oratorio composer; soon he also started enjoying a wider fame by writing operas for theatres: his works started being represented in many Italian cities. In april 1701, when an opera by Aldrovandini was being represented in Piacenza (perhaps Semiramide or Mitridate, the operas he was putting on stage in Genoa in the same year), the famous singer and teacher F. A. Pistocchi (a.k.a Pistocchino) wrote a very positive comment about it in a letter to his friend and mentor G. A. Perti.

Files:

Partitura

3.00€

Parti

2.00€

score + parts

5.00€
Copyright Edizioni Pian & Forte 2017 - AssociazioneProMusica - P.iva 09754000967 - Tutti i diritti sono riservati -
Cookie Policy
-
Privacy Policy