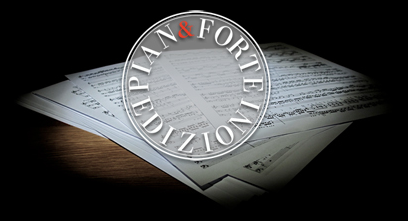 home
>
Sacred vocal music
> Paratum cor meum - Mottetto a 3 Canto, Tenore, Basso e basso continuo (Bontempi Giovanni Andrea)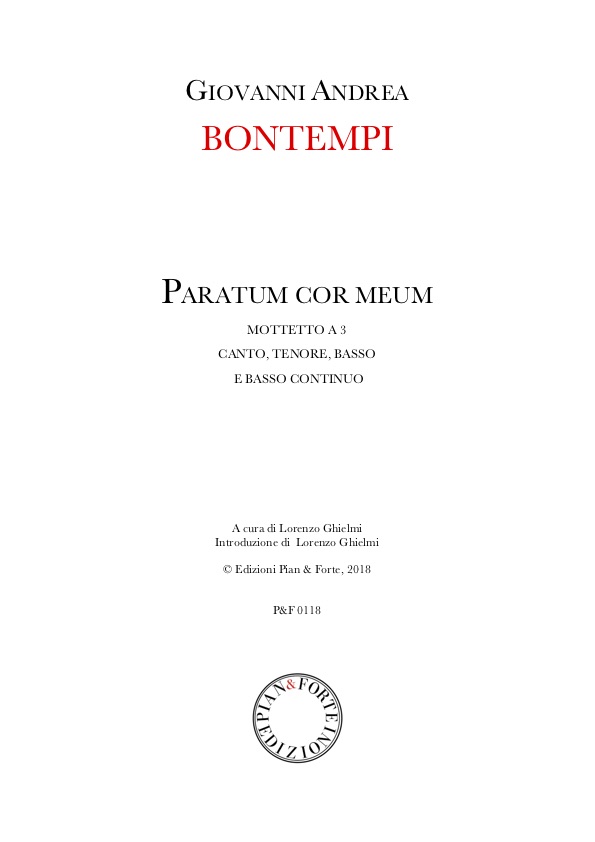 Paratum cor meum - Mottetto a 3 Canto, Tenore, Basso e basso continuo
(Sacred vocal music)
Universitetsbibliotek, Carolina Rediviva, Uppsala
Trascrizione a cura di Lorenzo Ghielmi
Introduzione di Lorenzo Ghielmi

ISMN 979-0-705083-20-0

13 pagine

Paolo Quagliati, was born into a noble family of Chioggia, near Venice, around 1555. About 1579 he settlled in Rome, where he remained until his death (16 November 1628). He was in the service of Cardinal Odoardo Farnese and later of the Ludovisi family. When Cardinal Alessandro Ludovisi became Pope Gregorius XV in 1621, he was appointed apostolic prothonotary and private chamberlain to the pope. In the front page of his madrigal collection (1608) he declares himself organist of S. Maria Maggiore, a position that he held probably until his death.
The motet "Nativitas gloriosae Virginis Mariae" was published in "Lilia Campi, Binis, Ternis, Quaternisq; Vocibus concinnata A Io.Baptista Robletto excerta atque luce donata cum Basso ad Organum - Romae.... apud Io.Baptistam Roblettum. 1621." Most of the prominent roman composers of the time (Allegri, Anerio, Frescobaldi, Giovanelli, Tarditi, Landi, Costantini and others) gave a contribution to this collection of small motets, written for solo voices and continuo.
The writing of Quagliati is pleasing and expressive, alternating counterpoint imitation with an omorythmic section in triple time. A singing style using "maniere et affetti" would be in its proper place in this expressive and intimate music, meant probably for the private devotion or for small celebrations.
Files:

Partitura

3.00€
Copyright Edizioni Pian & Forte 2017 - AssociazioneProMusica - P.iva 09754000967 - Tutti i diritti sono riservati -
Cookie Policy
-
Privacy Policy