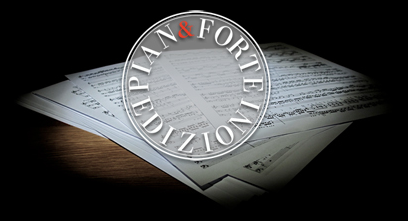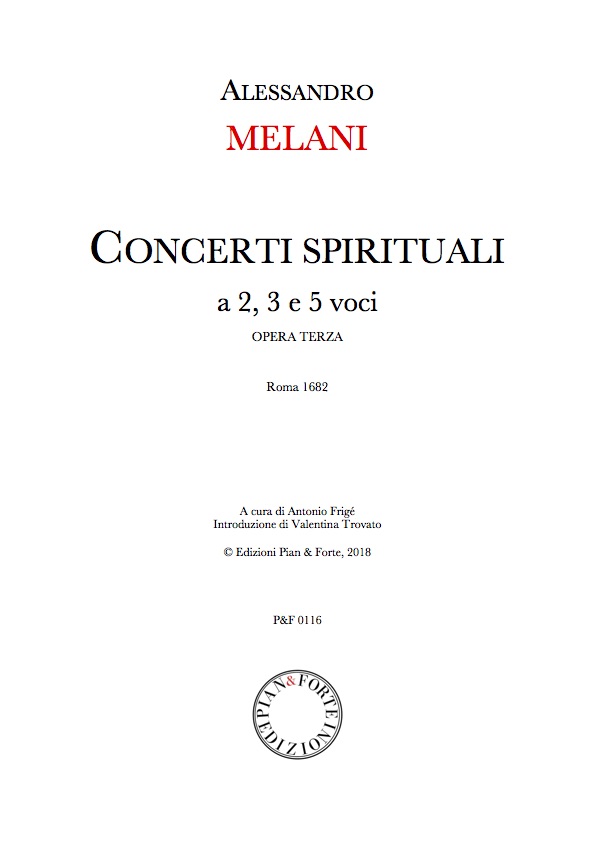 Concerti spirituali a 2, 3 e 5 voci - Opera terza
(Sacred vocal music)
Museo internazionale e Biblioteca della musica di Bologna
Trascrizione a cura di Antonio Frigé
Introduzione di Valentina Trovato

246 pagine

ISMN 979-0-705083-18-7

«Among the phenominoms of the Italian seventeenth century, one of the most noteworthy is the Melani family of Pistoia» – as Robert Lamar Weaver recalls in his 1977 historical article Materiali per le biografie dei fratelli Melani – especially for «the ascent accomplished in three generations, from the condition of commoners in a provincial town to the ranks of Tuscan nobility which could suggest a well-conceived plan of the seven sons of Domenico Melanie, a bell keeper and litter bearer of the bishop of Pistoia».
Of the Melani musician brothers, in the second half of the seventeenth century, Atto — castrato, diplomat, patron, illustrious spy at the service of the French (and of the Medici family) and principle supporter of the fortune of the Melani family — and Jacopo, a valient opera composer active in Venice, Florence and Rome, were very famous in the Roman circles.
Following the footsteps of his older brothers, Alessandro came from his hometown where he had worked as a choirmaster, to Rome. It was in 1667 and their fellow countryman and patron Giuglio Rospigliosi, a man particularly sensitive to the arts and music, had just ascended the papal throne with the name Clement IX. Waiting for the young Melani in Rome was the position of choirmaster at the prestigious Chiesa di Santa Maria Maggiore, probably thanks to the intercession of his brother Atto —who boasted of having played a considerable role in the election of the Pope from Pistoia —and for the bond of friendship that linked the Melani family to Rospigliosi, confirmed by the fact that Bartolomeo Rospigliosi was the godfather of Alessandro Melani.
The twenty-eight year old Alessandro, after a dignified apprenticeship in Pistoia, Rome, Orvieto and Ferrara, settled permanently in the 'eternal city' until the end of his days. When in 1682 the part books of the collection of Concerti spirituali a due, tre e cinque voci were published by the famous printing house of Mascardi, the composer could be said to have been satisfied with his career.
Files:

Partitura

30.00€
Copyright Edizioni Pian & Forte 2017 - AssociazioneProMusica - P.iva 09754000967 - Tutti i diritti sono riservati -
Cookie Policy
-
Privacy Policy