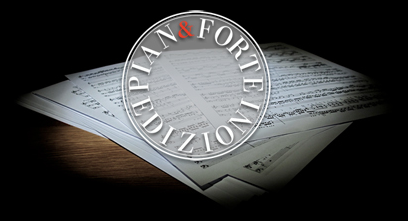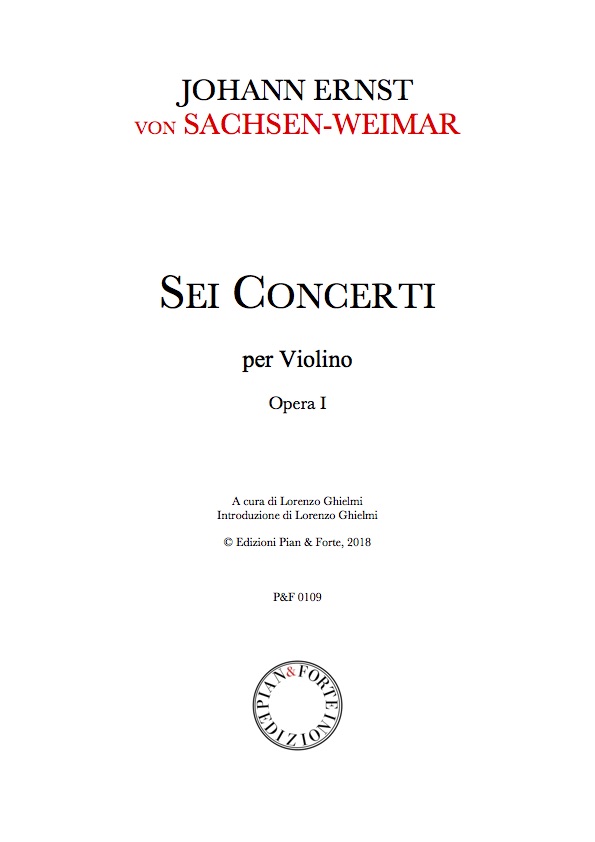 6 Concerti per Violino Opera I
(Instrumental music)
Thüringisches Landesbibliothek, Weimar
Trascrizione a cura di Lorenzo Ghielmi
Introduzione di Lorenzo Ghielmi

90 pagine

ISMN 979-0-705083-11-8

Johann Ernst, Prince of Saxe-Weimar, was born 25 December 1696, son of Johann Ernst III, Duke of Saxe-Weimar and his second wife, Charlotte Dorothea Sophie of Hessen-Homburg. His name was linked to the figure of Johann Sebastian Bach, who lived at the court of Weimar from 1708 to 1717, in the same years that music became the main interest of the young prince, a coregent of the duchy. Johann Ernst took violin lessons from G. C. Eilenstein, a musician of the court. In February 1711, he moved to the University of Utrecht and had the opportunity to visit Amsterdam, where he bought a copy of the Estro Armonico concertos by Vivaldi. On returning to the Weimar court, he became an enthusiastic supporter of the new instrumental Italian style, taking composition lessons with Johann Gottfried Walther, the organist of the municipal church and cousin of Johann Sebastian Bach. Walther had previously dedicated the treatise "Praecepta der musikalischen Composition" to the young prince for his twelfth birthday.
The birth of the concertos "appropriati all'organo" by Walther, like the concertos for harpsichord and for organ by Johann Sebastian Bach (BWV 592-596 and BWV 972-987), was due to the great passion of Prince Johann Ernst for this genre of music. He commissioned the two virtuosos to transcribe many Italian violin concertos and adapt them for keyboard. As well as the celebrated Vivaldian concertos, Bach also adapted four compositions by Johann Ernst.
The prince died while still young on the 1 August 1715. The six concertos for violin opus 1 were sent to Georg Philipp Telemann, who edited the posthumous edition, and it appeared three years later with the title "Six CONCERTS à un Violon concertant, deux Violons, une Taille, et Clavecin où Basse de Viole [...] Opera Ima, Par les soins de Mr. G. P. Telemann. 1718 Frankfort le 1 febr. 1718."
Telemann himself had dedicated a series of violin sonatas to the prince in 1715.
The style of these concertos was largely indebted to Vivaldi's way of writing: some compositional ingenuities do not compromise the general effect of freshness, life and vivacity. The first and fourth concertos also exist in the transcription by Johann Sebastian Bach for harpsichord.
Files:

Partitura

15.00€

Parti

20.00€

score + parts

35.00€
Copyright Edizioni Pian & Forte 2017 - AssociazioneProMusica - P.iva 09754000967 - Tutti i diritti sono riservati -
Cookie Policy
-
Privacy Policy