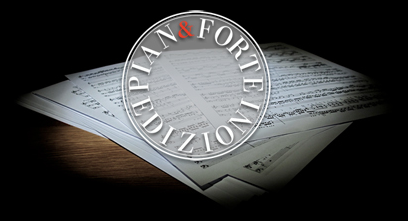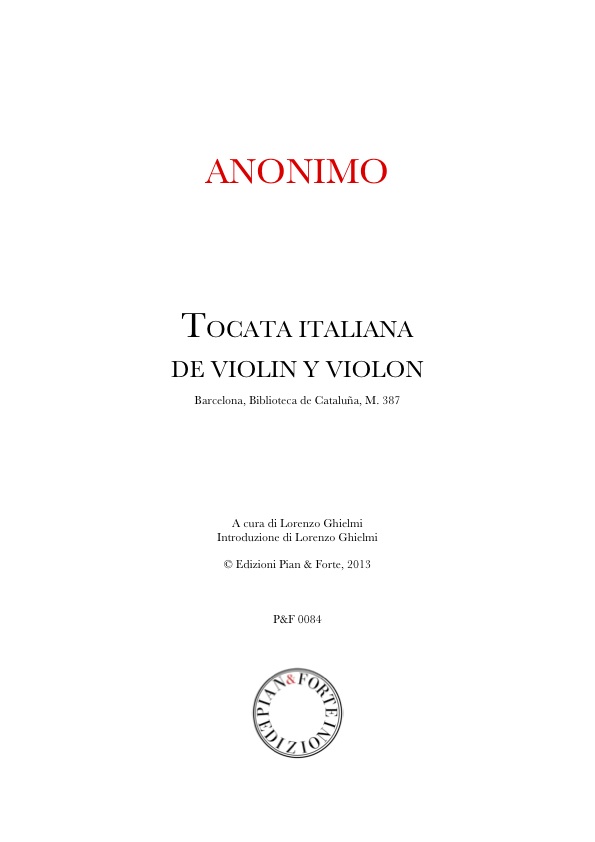 Tocata italiana de violin y violon
(Instrumental music)
Barcelona, Biblioteca de Cataluña, M. 387
Trascrizione a cura di Lorenzo Ghielmi
Introduzione di Lorenzo Ghielmi

12 pag.

ISBN 978-88-98342-83-9

The manuscript M.387 in the Biblioteca de Cataluña in Barcelona is a collection devoted primarily to the keyboard works of Juan Baptista Cabanilles (1). The handwriting indicates that more than one copyist compiled this collection. At least one of them was a student of Cabanilles, for the titles of some of the works end with the phrase "de mi mahestro Mn Juan Cabanillas." Throughout the manuscript the copyists have supplied various dates. They range from April, 1694, to January, 1697.
The manuscript attributes 291 works to Juan Cabanilles, 11 to José Jimenez, 4 to Florcadell, 4 to Francesco Foggia, and 1 to Joseph Solana. The rest of the approximately 500 pieces are anonymous, but many of them may well be by Cabanilles. Quite interesting is the presence of at least one piece by Johann Kaspar Kerll (1627–1693), the "Batalla Imperial", even if wrongly attributed in the manuscript to Cabanilles; also the anonymous "Copien sopra el cucù" could be a further variant of the Kerll's "Capriccio cucù". One "Tocata italianapara el organo" can be identified as aCapriccio by Johann Jakob Froberger.
Foggia, Kerll, Froberger: these names point to a connection with a musician that was or in Rome or in the musical entourage of the Habsburg court...
Files:

partitura

2.50€

parti

3.50€

score + parts

6.00€
Copyright Edizioni Pian & Forte 2017 - AssociazioneProMusica - P.iva 09754000967 - Tutti i diritti sono riservati -
Cookie Policy
-
Privacy Policy